So much like last week I decided I wanted to try to make productive use of my midweek night by getting some lawn maintenance done. This time I wielded the weed whacker as I spent over an hour and a half trimming the yard.  Despite it being after 6PM when I started, it was still melt your boots hot.  I was  sweating like a pig.  It felt good to get the work done but tonight part two takes place as long as the weather cooperates, mowing with the tractor.  There may even be a part three Thursday night if I feel motivated enough to mow the back yard.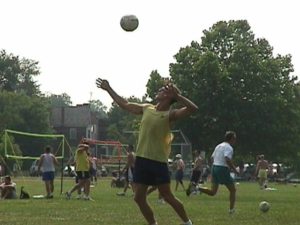 So my buddy and volleyball partner extraordinaire Rich reminded me yesterday that we are now 20 years past our most historic volleyball win ever, the  1999 Pottstown Rumble.   In 1999 Rich and I were a nearly unstoppable force in the BB  ranks of amateur volleyball in the Reading/Lancaster area.  We won several tournaments that year and had a very favorable win/loss record overall.  However no win was bigger or more memorable than the 99 Rumble.
The Pottstown Rumble is the biggest grass tournament in the northeast and the BB division that Rich and I were playing in had the most teams, around 125, yes I am not joking.  Now those of you familiar with volleyball may laugh and say BB is a lower skill division. I would normally agree with you.  However the Rumble was such a big tournament that players routinely dropped one or even two skill levels down to play because the competition level was so elevated.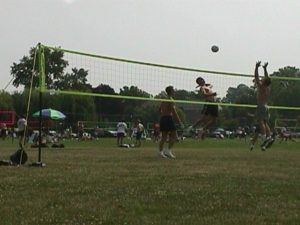 The day was simply amazing as we faced adversity time and again.  We played a ton of teams that were more experienced and more skilled but managed to find ways to take them down one by one.  Rich and I had very opposite roles in our dynamic duo.
Rich was a more cerebral player and hustled his ass off all the time.  I was the type that got the most satisfaction while hitting.  Rich was the type that got the most satisfaction by being able to make plays on opposing players hits, running down corner shots, and digging hard driven balls, that was his thing.  I can't tell you how many times I thought points were over but Rich's rabbit like speed kept the play alive.
I was a very one dimensional player most of the time.  Yea I could do the basics like passing and bump setting moderately consistently but my thing was attacking the ball.  I loved being able to get a good approach and just swing through a ball cleanly driving it to the ground or off some part of an opponents body in a violent way.  When I was unsuccessful it just made me angry and that anger often fueled me to be even more aggressive the next time.  Of course many times that anger could be detrimental as it would make me lose focus.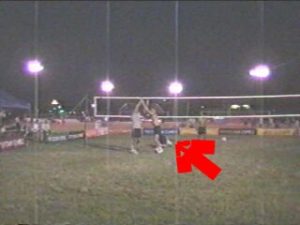 But on that hot and muggy day the chemistry between Rich and I was perfectly in balance.  With over 120 teams in our division it took forever to complete play.  Our finals match was actually completed on center court under the lights, long after most teams had already gone home.
The team we played had just steam rolled their opponents in their semi-final game.  This team looked so good that before we even started I recall us talking about how second place wouldn't be bad. ( I don't think I liked that talk)  The championship match was epic.  We just ground these guys down who started to short circuit as we won a few points.  The one kid had a horrible temper and booted the ball off the court a couple times after they lost a point.
We actually sort of wound up dominating them, winning by a comfortable margin.  I remember the moment clearly when the ball dropped on their side the final time. The feeling of accomplishment, exhaustion, and excitement that followed was a once in a lifetime, lightning in a bottle moment.  I think it was damn close to 10PM before we got out of there.  It was truly an amazing day that I will carry with me for the rest of my life, my greatest sporting achievement ever. Thanks to Rich for making it possible.
I quickly redubbed (copyrighted music) my 99vball video which includes some footage of the 99 Rumble in it.  Yes the video quality is horrible and it was one of the first videos I ever produced so please excuse the cheesiness.  If you would like to read my detailed recap of the day that I posted back then, here it is.