As is often the case my staycation so far has become a work detail.  It started Tuesday night when I got home.  I wanted to hook the Tacoma up to the RV and get it pulled out of the yard so I would be ready to roll out early Wednesday morning to Camping World.  It had been awhile since I fully hooked the RV to the truck, utilizing the stabilizer bars.  It took some trial and error but I eventually got everything hooked up and secure.
Getting the RV out of the gate to the front yard was extremely frustrating.  I wound up being too far to the right side.  I had less than an inch of clearance, so little that I had to remove the gate and turn down the hinge pin to avoid scraping the trailer.  Finally after maybe 15 minutes of futzing around I pulled the trailer out into the front yard, without damage.
The drive to Camping World went ok.  The Coleman trailer is right at the upper limit of what a Tacoma can tow.  The top speed I hit during the almost 40 mile drive was 60 mph which seemed fast enough.  I found the little wiggle that was initiated every time a vehicle passed the RV to be a bit unnerving.  I kept both hands on the wheel and just kept plugging away.
Eventually I arrived at the Camping World parking lot.  After getting some direction and a piece of wood, I started to unhitch the trailer from the truck.  As I did one of the sales guys came out.  I told him I was dropping off the RV for Cindy who had an appointment later that afternoon to sign the paperwork for the consignment.  Gary seemed like a decent guy.  I noticed the woman that we bought the RV from a year and a half ago was no longer working there.  Not surprising as I assume RV sales is much like car sales, a high turnover profession.
When Cindy went there later in the afternoon she got numbers that weren't exciting but somewhat expected, at least with a cosignment arrangement.  What was surprising was the lowest of low ball offers on a straight buy of the trailer, they offered less than half of what the trailer cost new 18 months ago, geezus.  The salesman did seem confident that he would be able to get the trailer sold before the 3 month contract expires, we hope so.  It seems a little odd to not have the 26 foot trailer parked in the back yard, but not in a bad way.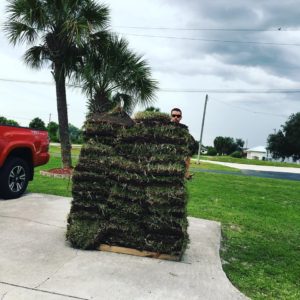 Shortly after I got home my delivery of sod arrived.  It felt sort of awesome to have a full pallet of grass, something I have been only getting 30 pieces at a time from Home Depot and at a price premium up until now.  I had a doctor appointment at two so I didn't want to dig into laying the sod until after I got home.
This appointment was  a follow up to the blood work and coronary CT scan that I had done several weeks ago.  This is all a continuation in my efforts to determine why I have off and on fatigue when doing high exertion and cardio exercise for almost a year at this point.
Instead of meeting with the endocrinologist for the follow up I met with a nurse practitioner that is part of the practice instead.  She actually seemed more thorough than the doctor.  She said my coronary CT results were not terrible with some calcification detected in only one artery.
She said my thyroid numbers were good too.  When she got to the testosterone numbers it at first seemed like I was good there as well with an overall score of 695, a very good number for an old fart like me.  However the number for my free testosterone was low which can still be problematic.  She advised that we do a retest in a month or two to see how similar the number is which can vary based on several factors.
We talked about some other possibilities.  She is going to have me tested for Lyme's disease something that is a possibility based on how much time I have spent outdoors over the last almost 20 years working on our three acres of land.  I also mentioned that despite me being tested for all kinds of stuff, a heavy metal test has not been done.  With my pescatarian diet (seafood only) mercury poisoning is a possibility.  So I will be getting more blood work done in the near future which hopefully will start to narrow down what is going on.
When I got home it was time to dig into the grass project.  It seemed like rain was imminent but I started anyway.  I had bought 16 bags of top soil to throw down but that only covered a fraction of the area where I threw down the sod, most of which just got laid on the existing grass.   Luckily the pallet was close to the area where I laid it down.  It took me around an hour and a half to empty the pallet.  The area I targeted is right by the driveway and turns into a lake during wet season.  I am hoping the four or 5 inches of additional elevation will prevent that from being a normal occurrence.  I already know that I will be buying quite a few more pallets in the future.  Yes at $330 a pop it isn't cheap but it is something I should have looked at doing years and years ago. After doing the grass work I returned inside limping with a sore back, and it was only day one.
The fourth of July was just another day to get stuff done.  After tending to the chickens, Cindy and I loaded up the truck and the Tesla with stuff for Katie and Daniel who spent their first night in the new house on Wednesday.  I also loaded up some tools as they wanted some help getting a TV hung up in the living room.  I thought the install would be more involved than it turned out since they were only connecting the tv via wi-fi instead of a hard line.  We got the tv on the wall and the kids were happy, it made it seem like a real house somehow.  After making sure everything was brought in Cindy and I headed out.  Cindy is sad about not having the baby and Katie in our house but she is excited for them to have their own place as well.
When I got home I moved into more work, mowing the yard.  It was hot as hell but luckily the canopy on the tractor makes it bearable.  I also mowed the area outside of the fence, something that gets done infrequently.  Afterwards, for fun, I sprayed down the parts of the pool cage that were looking particularly green with a 50/50 water bleach solution.  It doesn't yield as good of results as a full pressure washing session but it doesn't take nearly as long either.  The end result was good and should buy me another few months before I have to pressure wash it all.  Yes, I was tired.
Tonight we had a huge storm that at least was good for all of the newly placed sod.  We hoped it would wash out the redneck army from their backyard firework displays that absolutely terrify Elsa, unfortunately the rain stopped and the noise is going on as I type.  Elsa is hiding by my feet, under the desk.
Tonight we watched the animated Spiderman:Into the Spider-verse movie.  I had heard lots of good reviews and I now see why.  It's unlike any super hero based movie I ever saw.  It's so different and stylized as well as funny and entertaining.  I'd give it an A, a great rental if you are a Spiderman fan boy as I have been my entire life.
I'm glad I have a good chunk of the work that needed to get done handled already.  That doesn't mean I am done, by any means.