So my new Xfi gateway is already paying dividends.  When you have the app enabled on your phone any security alerts pop up on your screen to notify you of a problem.  Almost immediately after I configured the gateway I started getting alerts about the two port forwards I had set up, one for each of the Night Owl security dvr's I have in the house.  One of the alerts was just from me trying to access the device from work but the others were definitely malicious, originating from places like Russia and China.  My first thought was it must have just been a port scan and the Xfi did a nice job of proactively blocking the attempt.
So today I got more alerts on the dvr's so I decided to do a little more digging.  A Google search revealed that last year there was an exploit released that worked on a number of DVR boxes, including Night Owl.  It allows the attacker to access the DVR without credentials.  Once in there they are able to access video feeds and even screw with configuration.  Wow, well that is a little scary.  I immediately went in and disabled remote access to the DVR's until I can see if there is any remediation available out there via updated software for the boxes.  You really just can not ever leave your guard down.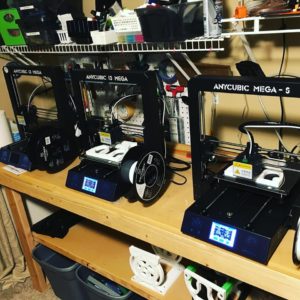 Yesterday my new 3D printer arrived, my third Anycubic I3 Mega.  I am so familiar with this printer that I had the new one set up and printing in less than 30 minutes.  For whatever reason there has been a LOT of demand for the 3D printed EUC stands recently.  I currently have one left in stock.  In addition to the new printer I have a few rolls of filament on the way to fire up an extended production run.
I have a very unconventional couple weeks coming up.  Next week I am only in the office Monday and Friday.  In the middle of the week I am attending a conference in Orlando.  The following week I am using up my last week of vacation before my rollover date.  I will have a lot of time to get shit done.