As expected our New Years Eve lacked the traditional elements most associate with the event, big crowds, wild parties, and excessive drinking.  Instead Cindy worked on cake crafting while I played a lot of WoW, trying to get my last few virtual replicas to max level in the game.  We watched the last few minutes of New Year's Rocking eve to see the ball drop.  Every year it blows my mind that a million people are willing to be corralled in Times Square for 12-18 hours, waiting for the ball to drop.  It just does not sound appealing to me in the least.  As the clock struck midnight we finished off the small glasses of wine that Cindy had poured us and then watched a little more of the broadcast before drifting off to sleep.  Despite it being the end of the decade it felt like most other NYE's, meaning uneventful.
I have never been the type to make resolutions.  I always have felt that if you need a date on a calendar to start making a change, you aren't serious about making the change.  Instead I plan to just continue grinding along, hoping that my actions always will carry more weight than my words.  I just find nothing but frustration in individuals that endlessly talk about getting stuff done but actually accomplish very little if anything at all.  It's almost like in some twisted way some people think that expressing intent is the same as acting on that intent.
Speaking of acting on intent, New Years Day contained a lot of that.  Cindy and I worked on putting away all of the decorations both indoor and out.  When I pulled the empty storage bins out of the shed I was amazed and angered at what I saw.  You may recall that I had a long running rodent problem in the coop area last year.  They were chewing things up outside and inside the coop including wires, cables, plastic food buckets and even the walls themselves.  We finally got the rodents out through a combo of trapping, putting the food away at night inside a metal trashcan, and installing several of those ultrasonic pest repellers.
Well for quite awhile there have been signs that the mice now have relocated to the big storage shed.  Mouse shit is rampant and I have found various things like fertilizer and plant food containers chewed apart and destroyed.  Well what I saw yesterday were holes, lots of holes in the lids of the plastic storage bins.  These were empty bins, there was nothing to tempt them inside yet they chewed their way through just for fun.  I was pissed.  I had contemplated action before but this escalated it's priority.
While I went to get coffee and some new bins at Home Depot Cindy continued working on taking down the decorations inside.  When I got back she had made amazing progress, having the one tree already bagged up and the second completely cleaned off and ready to pack away.  I headed outside to work on the exterior decorations which were plentiful but not as extravagant as some prior years.  The temperatures outside were pleasant which was a help.  As usual I felt some sense of sadness as I did the work but at the same time there is also a sense of relief when the task is completed.  Getting the house back to normal always feels good too.
When I was at Home Depot I picked up some electric cord splitters as well as another ultrasonic repeller.  I connected extension cords to the power at the pond and ran it haphazardly across the grass into the large shed.  I then connected not one but two of the ultrasonic devices, hoping it annoys the mice enough for them to take up residence elsewhere.  We also need to clean out the big shed entirely as I assume there are items in there that they have turned into nesting areas.  I will bury the extension cord soon to make the situation cleaner.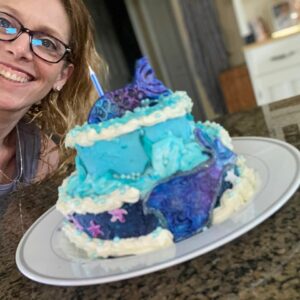 Our friend Deb came over yesterday afternoon to hang out for awhile.  Her birthday is today, her cake was what Cindy was working on the night before.  She had fun hanging out.  We went on a brief PEV ride so she could try out our Dualtron scooter.  She ordered a Segway scooter for herself that shows up in a few days so she wanted to get a feel for the experience.  She loved riding, we hope once she gets her scooter we can team up for some small group rides.
My feeling of illness continues but it feels less impactful than it had been previously.  I am hoping the ascent to wellness occurs faster than the molasses-like descent to non-wellness has been.
I had a dentist appointment at 8AM this morning.  I arrived a couple minutes early as I normally do.  Imagine my surprise when I pulled on the door and it was locked with no lights on.  I paced around for about 15 minutes until the receptionist arrived.  I told her I had an 8 o'clock appointment and asked what was up.  She confirmed my appointment was in the book but evidently there was a mistake and no hygienists were even there yet.
The receptionist said none would be there for another half hour or so.  I told her I couldn't wait around so I just rescheduled for the end of the month.  I was of course frustrated with the situation but chalked it up with a shit happens attitude.  This is the first time I have had an issue like this in the nearly 20 years I have been going there, I'll give them a pass, this time.