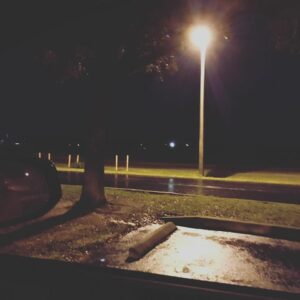 Friday night I got back out on the track for the first time since before Xmas.  It was warm and humid, considering it is mid-January with temps in the upper 70's.  The lack of sun and a light rain helped moderate things.  I managed to keep my pace under 10 minute mile rate which nowadays is saying something, believe it or not.
Saturday morning I went into the shed to pull out my tools for weeding.  Since I installed the sonic pest devices I have been checking the new storage bins since last week  just to make sure I saw no activity.  I walked back to do another spot check and saw plastic fragments strewn about, son of a bitch.
The freaking mouse had chewed holes in two more containers, one of them being the brand new one I bought last week.  When I pulled the ornament box out for further examination I saw a number of ornaments had been chewed apart as well, that was it, the rodent had crossed the line.  At that moment the switch in my head flipped where I authorized myself to use lethal force.  I mean WTF, the one bin was less than a foot away from one of the sonic repellers.  Either they don't work or this mouse has adapted to the noise and doesn't care.
Of course when I told/showed Cindy the mouse's handy work she was not pleased but she applauded my acceptance of having to get rid of the pest via any means necessary.  Later that morning on our trip to Home Depot we picked up a handful of lethal traps, rodent repelling spray and bait material.  I had a full arsenal in hand.
So when we got home Cindy was working on disposing of the damaged ornaments and cleaning out the bins.  During this process I was contemplating alternative locations for this stuff where it would have no possibility of rodent interaction and I found one. In the front of the garage under the charging table I had room for a couple bins and a third on the side.  After taping up the fresh holes in the lids I put the ornament boxes in there, away from harm.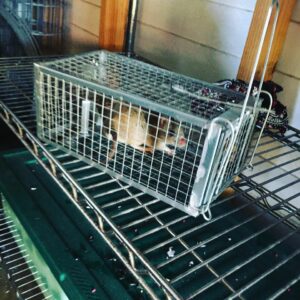 So now that the ornaments had been moved out of harms way and my initial flash of "kill them all" rage had subsided I reconsidered my options in the shed.  Since our important stuff was out I felt like I could just as easily live trap anything out there.  This change of plan was not welcomed by Cindy but I told her that as long as the mice were removed from the shed, it didn't matter if they were alive or dead.  I had a new live trap that I was going to use in the chicken area but I instead baited it in the shed.  Sunday morning I threw the door open and there it was, the destroyer of stuff.
Despite all the destruction the rodent had caused my immediate feeling when seeing him was compassion, his nose was raw from endlessly trying to find an escape path from his metal wire prison.  I covered the cage in a towel and drove to an isolated area a few miles away.  As I drove I had a one way conversation with the animal letting him know how lucky he was, in most scenarios he would have been a goner.  He just happened to be living in the shed of someone with a sometimes inexplicable aversion to killing animals.  The mouse scurried into the brush where I am sure he was confused, possibly scared but undeniably alive.  That's the best I could do for him.
Saturday afternoon we met up with our friend Deb.  She had just gotten a Ninebot Max scooter and wanted to go test it out.  I brought my big Gotway Monster while Cindy rode her Dualtron scooter.  The Ninebot scooter isn't a performance powerhouse but it has good power and great range to go along with a superior build quality. We rode around for at least an hour and a half, working a stop in to Royal Scoop Ice Cream along the way.  Deb loved riding.  After the ride I helped her out by hanging a few pictures in her place which she appreciated greatly.
Sunday morning I spent well over an hour doing my bills.  It took so long because I had to reconcile my Christmas credit card statement which I always dread.  It's a massive pain in the ass.  We made arrangements to go ride for the second time in two days which hasn't happened in ages.  This time it was at North Collier park.  We again met Deb but this time Katie and Daniel came as well.  Cindy watched the baby while the rest of us rode around for a bit.  It was fun to do a group ride, something that doesn't happen much if ever in my world.
Later in the afternoon I got on top of the chicken run to attach some hardware cloth over the one air vent.  A mouse, perhaps the same one or maybe another had chewed a hole through the plastic and was using it as an exit/entrance.  The metal mesh will prevent any further use but I need to put live traps out there again to see if I can snag any more of the furry destruction machines.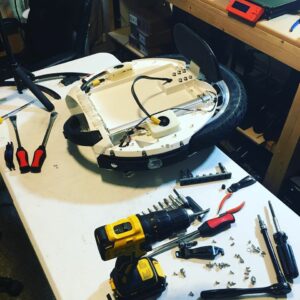 Later in the afternoon I set up the table in the hobby room to perform a motor swap on my KingSong 18XL.  The 18XL works perfectly fine as is but when I heard of a low cost upgrade to a more powerful and more quiet version I took the bait.  Doing this required a pretty extensive tear down and rebuild of the wheel but all in all things went very smoothly, something that is not normally the case for me.  I only had a chance to do a quick test ride afterward but it felt great and was incredibly quiet as promised.
I have a busy week ahead of me, adventure awaits.