I wound up getting stuck late at work on Friday evening so that scrubbed my plans to get a run in.  Instead Cindy joined me Saturday morning at the track.  The temps in the low 50's were chilly but typically good for running once you get moving.  The air felt even brisker because of a steady wind that was smacking us in the face for about half of each lap.  For whatever reason I never felt like I got to enjoy the benefit of cool air running.  My legs felt more or less like cement for the entire run.  I was relieved when the 12th lap had been completed.
After doing chores I went out and ran some errands with the dogs.  Cindy usually accompanies me on these trips but she was in the middle of cake prep.  I decided to take both dogs inside Rural King with me.  Trying to wrangle them by yourself while pushing a shopping cart around takes patience and persistence. The dogs seemed to appreciate the effort.
Saturday afternoon Cindy was still in cake world so I decided to take advantage of the glorious weather with temps in the mid-70's by doing a late afternoon DD ride on my big Gotway Monster.  The ride had several funny moments in it highlighted by some woman yelling her approval as she passed me on Immokalee Road and my screaming in sarcastic approval of the lawn mower sounding Mustang that rolled by late in the ride.
Saturday night we watched One Night in Hollywood a Quentin Tarrantino movie starring Brad Pitt and Leonardo Dicaprio.  Cindy was excited to see this movie based on it's Oscar nominations.  My excitement level was much less but I typically always like film Brad Pitt is in.  After watching the movie, I may have been confused about large portions of the plot and why certain things happened but I did think Brad did put on a great performance.  I can't give the movie overall anymore than a B grade but hey, maybe it's just me.
Sunday morning we got out for another ride, this time with Deb.  We rode the Oakes loop which is pleasant albeit harder on Cindy because she isn't able to utilize the scooter cruise control much.  The weirdest part of the ride was when we came across an obviously drunk man that wiped out on his bike on the sidewalk.  He insisted he was ok.  Cindy had a theory that not only was the man drunk but that he also stole the bike as his appearance did not seem to match up with the very expensive bike he was riding.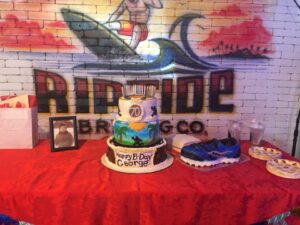 When we got back we didn't have much time until we had to head back out to attend George's party, where the cake Cindy has worked hour upon hour on was going to be center stage.  The cake was huge, three tiers, totaling close to 30 pounds, not including the standalone rice krispie sneaker she made as well.  Transporting the creation was sketchy and I did my best to have minimal G forces applied to the cake sections which were in their own boxes.
Once we got on site the sections were carefully brought inside and Cindy stacked them precisely.  Everyone was blown away by the detail and artistry of Cindy's design, it really was an amazing accomplishment.  Not only did the cake look good, it tasted great as well which was resonated repeatedly by the 50 or 60 people in attendance.
The party was attended by mostly people we know from the running club, a crowd that I used to be immersed in deeply, but now have hardly seen for four years or more.  It was nice catching up with the people that I spent many an early morning hour with setting up for races.  I miss the people but I definitely do not miss what came along with the race timer title.
I drank five beers at the event, more than enough to help my social skills.  However even with the alcohol I found myself walking out in the empty courtyard area a couple times just to escape the crowd.  George seemed to have a great time which I was happy to see.  Just like the good old days, Cindy and I were one of the last to leave as we helped clean up the party goods and load up the car.  In addition to the cake I made a couple lithophanes for George, one of him running in a recent race and him and his wife Susan, both of which he appreciated.
Cindy drove the Tesla home as she stuck to non-alcoholic beverages during the party.  We stopped at Katie's place to drop of a big chunk of uneaten cake and then headed home.  I was beat, probably most likely due to the combination of alcohol and sugar overload.  I will focus this week on burning some calories to compensate for the abuse.
I had a hard time falling asleep last night.  It was an odd sensation I was getting in my arms.  I just could not get comfortable, it almost seemed like restless leg syndrome, with my arms.  I eventually fell asleep after turning on my side but I bet I laid there at least an hour until I drifted off, despite feeling utterly exhausted.