Yesterday I got the report from my stepmom that my dad's first of two knee replacements went well.  He has already had his one hip replaced, twice and after this knee surgery he is already booked to have the other replaced later this year.  It's hard to say the exact cause of his joint issues other than the cumulative effect of long term abuse and/or damage.
Dad used to be pretty active as an adult.  When I was younger he was a pretty regular runner.  After my parents divorced he played rugby for a number of years.  He also liked to ski which resulted in a bad knee injury where he tore his ACL.  As the aches and pains accumulated over time you would notice his gait developing more and more of a limp.  The problem is as you compensate for pain on one side you can often be negatively impacting other parts of your body as well.  Dad has also been carrying more weight on his frame as he has gotten older which never helps your joints out either.
I myself have had two knee surgeries on my right knee which originated from a meniscus tear while playing indoor volleyball in my early 30's.  I remember my knee surgeon telling me that if I wasn't careful I could need a knee replacement by 50.  He counseled me against impact activities like running as they could accelerate the problem.  Of course I still run to this day, some 20 years later.  My continued focus on healthy lifestyle where exercise, stretching and conscious eating are the norm has served me well as I descend into mid-life.  I am hoping the same holds true as genuine old age sets in.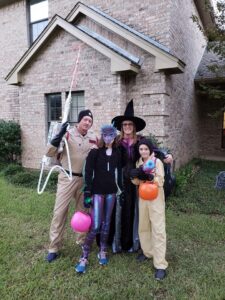 Earlier this week my sister and brother in law finalized plans to come visit us in early March.  It's sort of last minute but we had nothing pressing on the schedule and the dates worked for them as well.  The last time they were in Florida was well over a decade ago, it's kind of crazy.  I am looking forward to seeing the gang, especially the kids who should find lots of things to entertain them on our property and at the beach.
The last time we saw my sister's family was during our last winter road trip to PA when they still lived in State College.  It seems hard to believe that maybe 4-5 years have already passed since that visit.  The acceleration of time as you age is a real thing that never slows down.