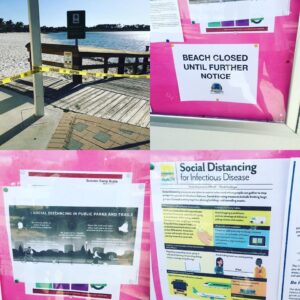 It was not a great weekend as the world has descended deeper and deeper into Covid 19 panic and paranoia.  After work Friday I returned to Sugden Park to run.  The signs of the pandemic were all around with roped off beach areas, warning signs and people walking around outside with masks on.  The temperature of 86 degrees was the warmest I have experienced since running at the park and it had an affect.  I really struggled and felt absolutely spent by the end of 3 miles.
On Saturday I kept my routine more or less intact with doing chores followed by errands however neither Cindy or Elsa was with me.  Cindy made a conscious decision to not go, Elsa, not so much.  At Home Depot I had my buff on but I think I only saw two other people with any facial protection on.  The store also seemed to have normal levels of traffic, I didn't see any noticeable reduction in humanity. The main stuff I got was dirt and sod, once again for the chicken area.  This was to patch several impromptu holes the birds decided to dig out.
I did get out on my EUC on Saturday afternoon where I reflected on the craziness we are surrounded by.  It was a well needed break from some of the stresses I have been dealing with.
Saturday night we watched our Netflix rental, Rocketman, the movie about Elton John.  It was half musical, half documentary which I didn't mind too much.  I am a big fan of Elton's music so I have to give the movie at least a B.
On Sunday morning I caught another rodent.  I had seen him popping his head out for a couple weeks but I hadn't baited the live traps which I finally did Saturday night with peanut butter.  On Sunday morning the small palm rat was inside the trap, looking sort of cute.  As I cleaned the chicken coop I placed the trap up high out of the chickens reach and then gave him some pieces of chicken feed to snack on while I finished up.  He seemed content eating the treat.  Afterwards I loaded him up in the truck and dropped him off in the same deserted  area as the others.  I need to keep baiting the traps to stay ahead of the curve, just like Covid 19 self isolation.
My Sunday was pretty chill with minimal work.  I got out on the wheel again in the afternoon, this time wanting to check out the beach area which was recently closed.  I was surprised by the solid metal barriers blocking the entrance as well as a human guard.  Ironically on the ride I saw the likely next target of the social distancing shutdown, boating.  The boat launch I passed had so many trailers in it that they spilled out onto the roadway.  The pictures emerging over the weekend of idiots packed like sardines onto boats partying it up will likely bring an end to that quickly.  People just either are too stupid to get it or just don't care enough to do anything about it.  My mic wasn't working for the ride so it is mostly just a visual experience.
I am back at work today as ordered.  I am hoping I can force the final pieces together that are required to relocate the branch we are moving but it is getting harder and harder to keep the process moving as the world slowly grinds to a halt.