Miguel told me that the sod was going to be delivered either Saturday or Sunday.  Of course I should have known that meant neither day.  When I contacted him yesterday asking for an ETA he said it was raining at the sod field so they had to wait for it to stop to cut it.  Well evidently it must have rained there a lot more than it did at our place as we only had some off and on light rain.  I am awaiting the next delivery ETA that will be missed.
I once again got my run in over my lunch hour on Friday, running the parking garage for the second week in a row.  It's a nice challenge, forcing my body to deal with elevation is a good way to shake things up.  Even once gyms reopen I may include this as a Friday thing occasionally.
On Friday night Cindy was exhausted from working hard outside during the day.  She went to bed early.  I had been messing around with a new streaming platform called StreamYard during the day.  I decided I wanted to give it a try.  The solution is entirely browser based, you don't install any software on your machine.  The UI is intuitive, simple but surprisingly powerful.  I also love that it makes streaming with other people incredibly easy, something I struggled mightily with when Marty and I were streaming together. I polished off the remainder of my Smirnoff Ice's during the record long three and a half hour stream.  I also had not one but two guests later in the stream, Mickey and Marty.  Even though the session went until after midnight it was a lot of fun as you can see for yourself if you have half a day to kill.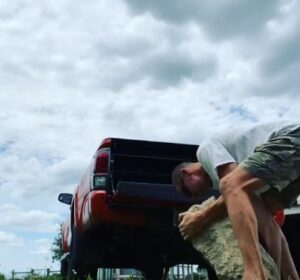 Saturday I kept quite busy with various tasks.  One of those tasks involved lifting a very heavy rock that was part of the fill into the back of the Tacoma. Katie said she would like it for her landscape.  Cindy offered to help me lift it but I did not want her to risk hurting herself.  I had lifted a heavy rock last year that was buried in the front yard and it went pretty well.  Of course back then I wasn't nursing a bum shoulder.
So as soon as I fully supported the weight of the rock I could tell it was significantly heavier than what I lifted before.  As I strained to get upright it wasn't my shoulder but my lower back that felt a jolt of pain shoot through it.  I half fell into the bed of the Tacoma with the rock, man it felt heavy.  The good news was my right shoulder seemed unimpacted at least.
I got on the tractor and did a half ass speed mowing run around the property, knocking down the areas that looked shaggy and leaving the rest alone.  It was good enough to buy me another couple weeks until I need to do a full yard trimming session.
Sunday was mostly overcast with off and on rain most of the day which is ok since our area has been arid dry for quite awhile.  It was Mother's Day so my primary goal was to make sure Cindy had a good day with minimal work.  She headed out to Katie's house mid-morning to hang with her for awhile.  I took Elsa with me to Home Depot to get a couple things for my new workbench in the hobby room.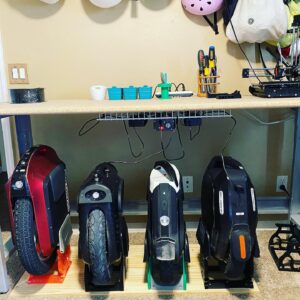 I bought a small piece of wire shelving that I mounted to the bottom of the bench.  I then used velcro to attach the chargers for the various EUCS to the shelf to make for a much cleaner set up, similar to what I did on the other wall.  I'm really happy with the way the new arrangement has turned out.  I have my small Prusa printer on the side of the bench and the rest of the surface is a great work area where I can easily assemble the parts to the 3D stands.  There is still some more organizing and throwing out I can do in that room but overall I am quite happy with the current layout.
Deb came over to visit late in the afternoon.  I told the girls I would be happy to go pick up dinner as I didn't want Cindy to have to cook on Mother's Day.  In normal times I would take her out to dinner.  So for the second week in a row we ordered from Lil Apetitio, a small italian place a few miles away.  Cindy called in the order, they said 40-45 minutes until it was ready.
So I headed out to go get the food, arriving at their door almost exactly 45 minutes after the order was placed.  Last week we did the same thing, you arrive, call again to tell them you are there, give payment info and they bring your food out a couple minutes later.  Well I did the same thing yesterday except that last part instead of taking a couple minutes took almost another 45 MINUTES.  It was frustrating as hell.  After I saw a few people arrive 10-15 minutes after me getting their food brought out before me I was annoyed.  I rolled down the window and asked the young girl if they had our order in there.  She was annoyed by my question and said yes they are just waiting on the food.  WTF, wasn't that the point of telling us to wait 45 minutes before coming to get it?
When the food was finally brought out she told me the salads that were supposed to be included were not there because they ran out of lettuce.  I said fine, whatever.  Cindy was really annoyed that I had to wait so long and she thought I should have asked for a credit for the food we paid for but did not receive.  I told her by that point I just wanted to get the hell out of there.  It wasn't worth beating up on the young girl over a couple bucks to me.  At least the food tasted good.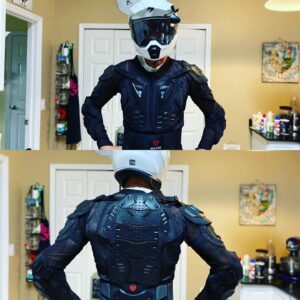 On Sunday my new upper body armor arrived.  Because it is Asian sizing I had to order the 3XL size, the largest they have.  Even so I was worried it would not fit my long arms.  Luckily it actually fit well and should provide me with some pretty serious protection in high speed riding situations.  It will be interesting to see how bearable it is in the brutal Florida heat and humidity.  The hard body panels are attached to a mesh-like fabric so hopefully it breathes well.
This morning I had my appointment with the orthopedist for my shoulder.  Ever since I made my appointment last Monday the shoulder has been improving slowly, so much so that I considered cancelling the appointment.  Since I have had a long term pain issue in there I figured it was still worth my time to have him take a look.
They took some x-rays which revealed nothing abnormal.  The physical exam  went ok outside of a few movements that caused some mild pain.  When I told him my recent workout routines which have been including 200 push ups in a session he said it seems clear it is an overuse scenario.  He cautioned at my age I may want to consider adjusting my routine.  I threw out there that I suspect it may be also because since there is no gym, I am not working both the back and front of the shoulder more equally, it's been all push and little pull.  He said that is an issue as well.  He didn't think any serious tear was in there else I would not have been able to do some of the things I could in the exam.  He recommended I try a month of physical therapy and see how I feel from there.  I can do that.