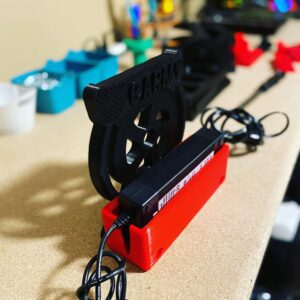 The other day I saw someone in one of the FB EUC groups talking about a 3D printed EUC stand he bought on Ebay.  The design was much bigger and bulkier than mine but it did have something that interested me, an included side compartment for the charger brick.
This compartment isn't something everyone one would want or need but it would make a nice option.  In the course of an hour or so after taking a few measurements of one of my EUC chargers I had a prototype modeled out.  I started the print last night and woke up to the physical object this morning.  I was thrilled that not only does it fit the charger perfectly, the pass through holes for the bolts lines up perfectly as well.
I plan to do a few more tweaks to it like adding some punch outs to the side to provide additional ventilation for the charging brick but to be quite honest it is pretty damn good as is.   It will be interesting to see how many people show interest in the add on.
So HBO is doing a limited time free access deal which ends on the 17th.  I had HBO for a number of years but dropped it when I reworked my plan to save a few bucks.  I am hoping to take advantage of the gratis time period to binge watch season 3 of West World.  We watched the first episode last night and it seems pretty damn interesting to me.