Last night I was out in the chicken area sprinkling scratch grains for the chickens in their feeder by the oak tree.  As I was doing so I heard a thud to my right.  I look and see a left over piece of water melon on the ground.  I glance up at the tree and see the squirrel that was eating it looking at me at eye level with an "oh shit" look on his face.  It felt like the scene out of Christmas Vacation when the squirrel was in the Xmas tree.  However instead of diving my direction he jumped down and ran off outside the fence, despite me telling him it was ok and to not be scared.  It was pretty funny. The chicken area is a hot spot for a variety of non-chicken animals including tons of different type of birds, rabbits, squirrels, and even ducks.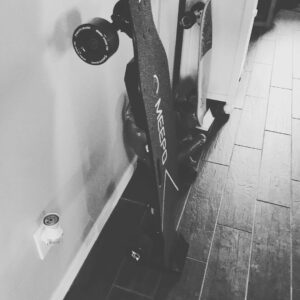 Last night I boxed up my Meepo V3 KT skateboard, I sold it to someone on the internet that saw it on my YouTube channel.  This board was my first foray into the world of ESK8.  The board was fun to ride as long as your riding surface was free of irregularities.  On rough roads or sidewalks it got unfun pretty quick.  Since I bought the skateboard in August of 2018 I bet I have logged less than 50 miles onboard.
I got a couple hundred bucks for it which wasn't bad.  I still have the Backfire Ranger X1 all terrain skateboard in my collection.  I enjoy riding that a lot more because of the larger rubber tires and smoother speed control.  The Ranger is also one of Cindy's favorite things to ride.
So I have now been in the midst of trying to get Miguel to finish this sod project.  You may recall last week I had 10 of the agreed upon 15 pallets of grass delivered and laid down.  When I had Cindy ask him when the other 5 were coming he said he wanted to see how much area was left to be done after the 10 were laid out.  Well the answer is a lot.
I told him that it looked like we could probably throw down another seven pallets.  When I asked him about this earlier in the week he said the large amounts of rain we had over the weekend made the sod field too wet to cut which was reasonable. However we have been rain free since Monday so yesterday I once again started texting, asking for some time frame for getting this shit done.  There was no response to yesterdays attempt at communication so I sent another this morning. If that is also ignored by tomorrow I will begin applying the full court press which will eventually include me reaching out to his dad to scold Miguel for being one of the poorest communicators I have ever encountered.  Rainy season is rapidly approaching so the urgency only increases with each passing day.