So I have been given excuse after excuse by Miguel as to why he has been unable to get me the sod that I paid for almost a month ago.  With those excuses came multiple missed delivery/install dates, at least a half dozen times.  For good measure he also likes to ignore texts for days , especially if they request something ridiculous like an ETA till completion.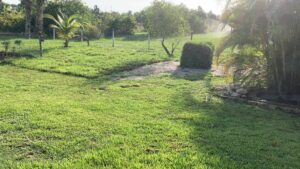 So the latest grind has been trying to get 7 more pallets of grass to finish the job.  Miguel has insisted he can't get the sod.  He says the sod field is too wet and the trucks they use to deliver are stuck.  Well considering we are moving more and more into rainy season I don't think that is a situation that is going to get better with each passing day.   So yesterday I decided to take matters into my own hands.
I did a Google search for "Naples Bahia sod".  Within seconds I had a list of possibilities.  I called Leo's Sod as I recall buying two pallets of sod from them at least 15 years or more ago to cover the elevated dog area.  I asked them if they had any bahia sod.  I was expecting a similar story about scarce availability based on what Miguel told me.  Instead i was told they had it in stock and could deliver either yesterday afternoon or today.  Yea it was $20 more per pallet but I am more than willing to pay for expediency at this point.  I gave them my credit card to pay on the phone.  They said they would let me know if they could make it out there this afternoon.  I could hardly believe it when they told me later they were bringing it out, the same day.
I had just gotten off a conference call so I had to quickly shut down everything at work and quick step it to the Tesla.  Cindy was over at Katie's place so I asked her if she could head home in case the truck gets there before me.  As I approached the house it was a beehive of activity.  The sod truck had just pulled in, the DHL van dropping off filament was already parked and an Amazon delivery van was pulling in as well.  It was sort of nuts how all of these events lined up.  For good measure a few minutes later the people that bought some chairs Cindy was selling arrived as well.  It was a pretty hectic few minutes.
I stayed outside in my work clothes telling the sod guy where I wanted the pallets.  I sent a picture to Miguel letting him know I now have sod, no thanks to him.  I asked him if he was still interested in having his crew lay the sod for the $20 per pallet we agreed upon previously.  His one word response was "yes"  When I later asked him when they were coming he said "tomorrow".  We will see if they show up today.  If not I am pretty ready to tell him to f off and I'll just spread the sod myself although part of the installation he does includes rolling the sod flat which would be a nice bonus.  The grass he did in the chicken area looks fantastic.
This was just the latest confirmation that you just can't trust anyone but yourself to make sure shit gets done.  If I am paying you yet I have to babysit your actions I really don't want anything to do with you in the future.  It's amazing that a month of excuses was remedied in a couple hours just by me making a 5 minute phone call.
So the Trump train of insanity keeps rolling along with nobody at the wheel.  Just like his handling of Covid 19, the Floyd murder reaction by the president has been utterly ineffective, corrosive, and inflammatory.  I recall saying a long time ago a very simple truth that I think is inarguable.  Not every person that supports Donald Trump is a racist, but, EVERY racist supports Donald Trump.  Think about that and let it simmer.