I got an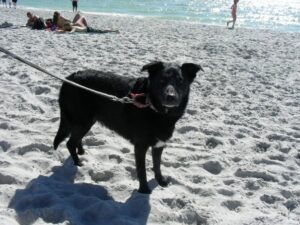 email from my Dad today that brought instant waves of emotion over me.  Maggie had died.  Maggie was going on 16 years old and for the vast majority of her life she was an incredibly active dog which is a blessing.  Dad and my stepmom didn't adopt Maggie until after I moved to Florida so I didn't get to spend as much time with her as I would have liked but even with those limits, I loved her a ton.
The times when Maggie, Clara, Nicki and Sadie got together either via western road trips in the van or when my dad and stepmom would visit Florida were just so special.  Watching the four dogs interact and play was one of the purest and simplest enjoyments I could ask for.
Maggie was amazingly athletic, smart and seemed to have endless energy.  She would play fetch with you until your arm was ready to fall off.  She liked water, entertaining us by diving into the pool here repeatedly to retrieve a toy.  She accompanied us on countless walks whether it was 90 degrees in Florida or 10 degrees in western PA.  She didn't care, she just wanted to be part of it.
She and my dad were inseparable.  Despite her size she wanted to be a lap dog while dad was driving.  It was always quite the funny visual seeing a full grown border collie jammed onto his lap on the road.  I know this moment was something my dad dreaded for a long time and it sounds to me like he wasn't dealing well with it as Maggie went downhill.
When I saw her in January I was shocked by just how much she was struggling.  It had been a year or two since I saw her.  It was difficult to see the dog I knew running a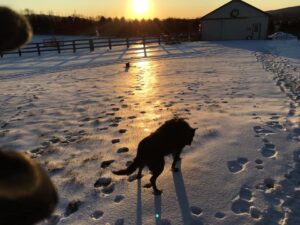 round for hours now having to struggle mightily to simply stand and walk.  During that visit I was pretty sure it was going to be the last time I saw sweet Maggie alive. I spent a lot of time on the floor just rubbing her during that visit.  I told her I loved her as I gave her one last head rub before I left.
The sadness and remorse I feel I am sure is only a fraction of what my stepmom and dad are feeling.  Despite my sorrow I do try to recognize that at least her suffering is at an end.  In times like this it's hard to focus on all of the great memories and loving relationship you had with your pet as they truly love you like no human being can.
The picture in the snow was taken during that last visit.  I remember when I took it, the symbolism even then brought me to tears for a moment.  We all will miss precious Maggie.  She was a special one.