This week there were two organized and pre-announced protests locally regarding the killing of George Floyd.  These marches started at the county courthouse and went into downtown Naples.  The police presence here was massive.  Each night when I walked into the parking garage there were dozens of police on the upper decks just waiting to be called into action.  In addition they had all entrances into the government complex blocked with cars to make congregating inconvenient I guess.   What I thought was weird is this has continued every day this week, despite no organized protests being scheduled for the last two days.  They are all just up there observing and waiting.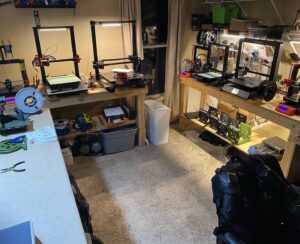 Pandemics aren't a good thing for most businesses but evidently they are for 3D printed EUC accessories.  May was my biggest month ever for sales, crossing the $1500 mark.  I have been expanding what I have on the store from being just stands for EUCs to include other stuff like "bumpers", kick stands, charger holders, and more.  The end result has been pretty much every day having a good chunk of it consumed by fulfilling orders and keeping the assembly line of printers in the hobby room cranking out parts.
I even put an inquiry in with a place that does injection molding of plastic parts.  I was curious what potential costs would be to have some of the parts created this way.  The upfront tooling cost is very pricey so I don't know how feasible it would be but I am curious to see what sort of numbers they throw at me.
This morning I had my last session of physical therapy for my shoulder.  It was getting to be a hassle to go 2-3 times a week and my shoulder has progressed enough that I felt safe continuing onward on my own.  At the gym and at home I have all the stuff I need to continue doing the exercises to build the small supportive muscles in the joint.  I am still definitely not back to normal as push ups and pull ups are still off the menu and have felt uncomfortable when I have tried either, even in limited numbers.  I just need to be more attentive to when something hurts and be patient with my goal of being able to return to bench pressing, some day.
This weekend I have some projects on my mind.  The back of the property needs to be mowed at some point but the more immediate project will be our attempt to redo the small pond in the backyard.  Since Cindy trimmed back the areca palms considerably it exposed just how badly the pond needs attention.  The game plan is to use a shovel to remove as much sludge as possible and then pull out the dry rotted liner that has been in place for over 15 years.  I will then probably pull the "blanket" under the liner and try to dig the hole out even deeper so the pond can hold more water.  We then will put the new liner in and I will likely get new tubing and possible a new fountain for the upper tier.  It should be dirty, smelly, sweaty work.  Hopefully the end result is worth it.