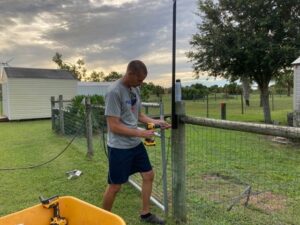 I wasted little time before heading outside last night to resume mounting the fence extension poles.  This time I utilized the wheel barrow to conveniently move supplies from one mount spot to the next.  It went very well, by the time I finished up for the night I had extension poles on 3/4 of the fence perimeter.  I am hoping to get the remaining poles mounted tomorrow night and then over the weekend I can concentrate on getting the barrier hung up.
Once I got out there I of course released the chickens from their captivity.  They seem so excited when they are allowed access once again to their yard.  If chickens could smile, they would have been sporting big toothy grins.  I am really looking forward to completing the work so Cindy and I can resume letting the hens roam without feeling the need to be constantly looking over our shoulder for coyotes stalking the yard.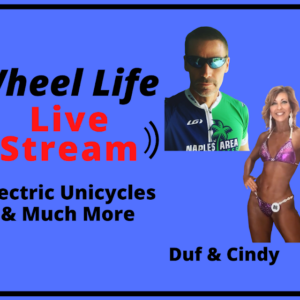 Tonight Cindy and I are going to be on the live stream of The Black Cobra at 6:30. (look him up on YouTube)  He does a weekly EUC themed talk show where he has various people on in the community to just shoot the shit.  Last night we hooked up with Erwin for a few minutes on Skype just to make sure everything was good to go.  He is a cool guy with an outgoing personality so I think it should be a fun time.
It's an odd thing that not once but twice my hobbies have resulted in people all over the globe knowing who I am.  The first time was via my hardcore calisthenics days where I was involved with the Bar-barians and posted countless workout challenge videos.  Now courtesy of my EUC/PEV obsession much of the same has happened. If you have been in the EUC scene for a decent period of time, no matter your geographical location around the globe, you probably know who Duf is.  I'm not mentioning this as bragging point, it's more of an oddity and weird side effect of living in such an interconnected world as we do today.