After quickly doing chicken chores Saturday morning I hopped in the car and headed to one of our branches to do support related to a migration of our DL issuance system.  I originally had visions of being out of there in an hour but it wound up taking three hours until I was done.  No problem was show stopping, there was just a lot of testing that needed to be done.
After getting home and eating lunch Cindy, Elsa and I headed out to Home Depot and Rural King to get supplies.  One of the things I bought was a single 16″ patio stone, for my 3D printer room.  You may wonder why in the world would I be using a patio stone in there?  It turns out it is a great way to negate printer vibration noise.  Cindy has complained forever about the noise some of the printers make, much of which is caused by vibration in the printer getting amplified by the bench it sits on.
Last week I saw multiple examples of hobbyist putting their Prusa printers on these patio blocks with small pads under them.  They claimed it did a surprisingly good job of deadening excessive noise.  I was skeptical but it is worth the $3.66 the block cost me to give it a try.  I set the block up under the noisiest of my four Prusa Mk3S printers and was surprised that there was a noticeable difference in decibels.  It was significant enough that I have Cindy tasked with getting me three more blocks this week.
Later in the afternoon I did a task I had been wanting to shoot a video on, ripping open a bent up wheel motor that was sent to me by an EUC buddy from Vegas.  I thought it would be interesting to see how things looked inside of it.  I immediately ran into a roadblock as the bolts that attach the slide frame to the motor were stripping when I tried to turn them out.  Evidently they used red loctite to secure them.  I later found out that I would have had better luck if I heated them up first prior to breaking them loose.
Instead of that I brought in my impact wrench and was able to brute force a few out while hopelessly stripping the rest.  I looked at it as an opportunity to test out my new angle grinder to cut off the stripped bolt heads.  It was the first time I have used the tool since receiving it.  I wore safety glasses but was in my bare feet on my knees so I definitely was not utilizing best safety practices. It did however make for a funny visual.  I got the thing apart eventually.  I have no real use for it now so it will probably wind up going in electronics recycling, although I may try to make clock out of one of the motor covers.
On Saturday night Cindy, Katie and I finally got to do some virtual bowling together with all three of us in the same lane.  It was funny hanging out and hearing Cindy and Katie's commentary.  The fun was cut short however because Katie's headset ran out of juice as she forgot to charge it from the last play session.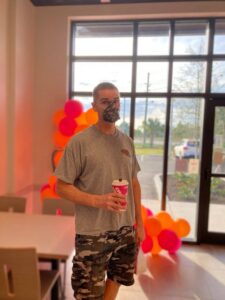 During the day Saturday Cindy and I also got to check out the brand new DD that opened up less than three miles from our house.  It was clean, small, and BUSY.  When I went Sunday evening for a late coffee the drive thru had 7 or 8 vehicles lined up.  The good news is the staff we interacted with seem personable and nice which is not always the case in our other DD stomping grounds.
On Sunday Cindy and I rode to the DD, her on the Dualtron scooter and me on my Veteran Sherman.  We didn't get there until a little after 11 and it was PACKED.  I guarded the equipment while Cindy went inside.  She said there were 13 people ahead of her at one point.  Everyone wants to check out the latest and greatest.  It will be nice to have a quick 6 mile round trip to grab coffee when no other errands are required.
After getting back from the ride I went right back out to shoot two more videos since I was already dressed for it. One video was a private thing I shot on request for a rep of one of the EUC companies to go along with Chinese New Year.  The other video was my first response to a response video.  Evidently another EUC YouTuber took offense to some commentary I made during a ride back in November and decided to make a video about it.  Nothing he said was disrespectful but I thought it would be entertaining to address it on video along with a few other talking points.
I wound up my evening with some more hobby room work along with playing some WoW for the first time all weekend. As I was around the property this weekend I kept seeing annoying jobs that need to be attended to, the biggest and most annoying is pressure washing.  It feels like I just pressure washed the pool cage not that long ago but the deck and frame have areas that are very, very green and in need of blasting.  I will force myself to do the job sooner rather than later, despite my intense dislike of the process.