As I was driving home from work last night for no particular reason the idea popped into my head to ride the Sherman to work on Friday.  I had done the commute on three different EUCs in the past as well as my Ultron Ultra scooter, which I no longer own.  The last time was on the scooter and it was almost two full years ago.  After doing a quick check on the weather forecast I mentally committed to the ride, which is all it takes.  Last night I got the equipment charged up and organized so I could get out the door around 6:30 AM this morning.  Cindy as always was not happy to hear of my plans, the idea of riding with morning rush hour traffic makes her nervous.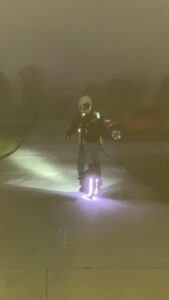 I set my alarm about a half hour earlier than normal.  I tried to expedite my normal routine by eating just Pop Tarts and toast instead of preparing eggs as well.  I geared up like I never have before for the commute wearing a full face helmet, upper body armor and my motocross style knee/shin pad armor.  Getting everything put on and my gear ready to roll took awhile, I bet I spent 20 minutes gearing, gathering, and double checking I had all that I needed.  My work shirt, gym clothes, lunch and charger were neatly stowed in my backpack.
Cindy was not happy to see that there was thick fog rolled in as I was getting ready to depart.  I assured her I would be very visible with my reflective vest and ultra bright LEDs I have around the opening of the wheel.  I looked like a one wheeled UFO. After giving Cindy a kiss  I rolled off into the mist.
My visibility was fine in the fog but it did have the side effect of making things very moist.  Before very long my selfie stick and helmet had water dripping off them.  Luckily the camera lens appeared to not get covered in condensation.  The Sherman is a fast vehicle.  For the portion of the commute where I was in the bike lane I was maintaining around 30MPH without even trying.  Once I got to the Livingston Road I transitioned to sidewalk which knocked about 10MPH off my cruising speed.  Even so I made great time, even having time to grab a DD coffee a couple miles before the office.  I looked at my watch as I opened my office door and saw 7:59, pretty amazing.
When I walked my wheel through the customer lobby I got tons of WTF looks from employees and customers alike.  Like I said I had not done this ride in a couple years and nobody has seen the Sherman before.  Unlike prior years where I would also need to take my EUC to Planet Fitness at lunch, I now walk to the on campus county fitness center, further simplifying the process.  I brought my charger for the wheel along, even though I would easily be able to ride home without charging.  I brought it so I can have the battery at a high level for the return to trip to allow me to maintain faster speeds safely.
I am fortunate to have yet another three day weekend ahead of me.  I am still very happy I knocked the pool cage pressure washing out last weekend.  I do of course have other things I need/want to get done but nothing that I would consider oppressive. It's also Valentines Day weekend.  Cindy is actually open to going out to eat, as long as it is somewhere that has outdoor seating.  We are surely still miles away from returning to "normal" life but inch by inch, we are at least moving in the right direction.