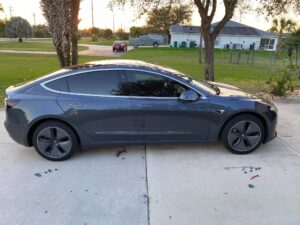 On Saturday the main focus was to get my Model 3 ready to trade in.  Doing so meant I needed to remove a number of the mods I installed and just clear the car out of everything but the stuff it came with.  It was a bit of a bittersweet process as I have loved my Model 3 since the day I got it.  In addition to physically removing items I also needed to make sure I had all of my I's dotted and T's crossed.  All of the paperwork for the car was signed electronically so I just had to make sure I had basic things like my old car registration, insurance card and drivers license.   I also charged the car to 95% to make sure I had plenty of juice for it's final cross state journey under my ownership.
During late afternoon I did a speed run to our new DD on the V11.  I filmed the first half of the ride.  I couldn't film the second half because I was carrying coffee for both myself and Cindy.
Saturday night Cindy and I went out to dinner for the second week in a row.  We planned to go to the same place we did last time but they were not doing any outside seating when we arrived because there was some band setting up out there.  Instead we walked down the sidewalk to some Mexican restaurant who had outside tables available. We had a good dinner although Cindy had to send her chimichanga back because the first try had the beans in it that she asked to be removed.  It was once again nice to get out.  We took the Model 3 there on it's final date.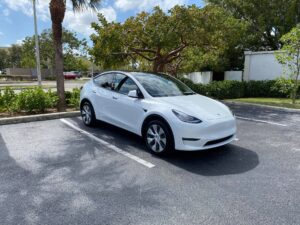 Sunday morning I was hustling to get my normal chicken and bill paying chores finished up before we had to leave. SInce the appointment was at 12 I figured we needed to head out around 10 to make it there with a bit to spare.  I also loaded up not one but two sets of camera equipment to document the process.  One was used in car on the suction cup mount to the glass roof and the other a handheld.  Buying a new Tesla is something people like checking out.
The ride over to Fort Lauderdale went well.  The reduced range of the Model 3, somewhere around 12% after 25,000 miles on the odometer, meant we rolled into the dealership with about 18% charge remaining.  The transaction efficiency at the dealership was nothing short of amazing and far better than my first go through with the Model 3 which included a lot of waiting and the car not being prepped.  This time we were completely done in something like 25 minutes.  I had to sign exactly ONE piece of paper.  Cindy and I did a thorough go round of the vehicle to make sure there weren't any significant flaws before taking delivery.  We found none but later we discovered one, which I will cover shortly.  This video covers the drive over in the 3 and back in the Y.
Cindy seemed to love the car even more than I did.  She loved the pearl white color, the room, and the ability of the car to have "camp" mode.  She has a desire to camp out in the Model Y for some reason.  After picking up the car we grabbed lunch at California Pizza Kitchen and then headed westward.  The drive back was great.  I did notice the things I could no longer do with the removal of FSD from my account like auto lane changes, traffic device awareness, and summoning but those features while nice, are not deserving of a 10K premium at this point for me.
Once we got home I worked on getting stuff moved into the Y.  During that time I found out that some of the accessories that I planned to move to the Y were not compatible like the USB hub.  Since my Model 3 Tesla has switched around the USB configuration in the car, making most of the ports type C instead of type A.  I also have the chrome delete kit for the the 3 that I never got a chance to install.  As of now I am thinking about giving away the stuff I can't use on my YouTube channel as a promotion.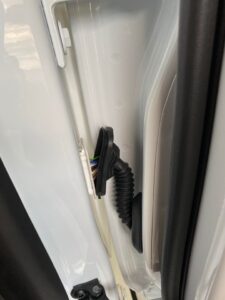 During this time I also discovered that there was a blemish in our brand new Y. The wiring harness for the passenger rear door was not installed correctly.  The bracket and the rubber boot designed to cover it were hanging out awkwardly.  Both myself and Cindy took a shot at pushing it into place but could not do so with our hands.  I did not want to risk breaking a part on the brand new car so I just placed a service call with Tesla.  They will come to my house in a couple weeks to fix it and at that time they can also install the Homelink hardware that I bought for the Y to allow me to open the garage as well.  It was annoying that the car was not 100% as it should be but to be honest Tesla owners are sort of used to this stuff by now, not that it is a good thing.
The rest of the night was spent editing video mostly and planning what initial accessories are on the short list for the car.  Ironically I heard that for some reason the base model Y is not currently even available to buy on the Tesla web site now.  I appear to have gotten very lucky, just happening to look for one during a very brief 2 day window where they were available at a 2K discount.  Crazy shit.