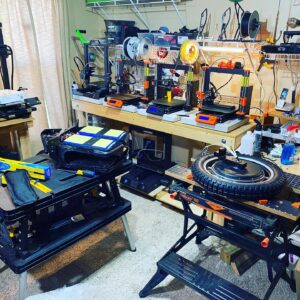 On Saturday I cleared out all normal tasks in the morning to make way for an afternoon and evening of EUC repair madness. I had a bunch of stuff I wanted to get done on my Veteran Sherman.  The wheel was not "broke" in any way, these were more like "mod" or preventative maintenance, including swapping over to the knobby tire.
It was a big enough tear down that I brought my old Workmate in from the small shed to assist in the task.  In total I spent between five and six hours on the project.  For the most part it went ok except for a few snafu's that are part of any task I take on it seems.  Part of this project involved pulling the motor apart.  As you can imagine, attention to detail is very important when reassembling as your safety and well being is only as good as the tight and secure electrical connections that have to be made when putting stuff back together.
I did a quick test spin when the work was done.  All felt well, I hope to take a longer ride before my vacation expires. Editing this video took forever.
Sunday was DJ's official birthday party, although his actual birthday was the 25th.  Cindy and I went over early to help get stuff set up at Katie's.  We then went back home briefly before returning for the celebration.  The party was attended only by Daniel's family members, most of which I had not seen since Katie's baby shower.  Some of that of course is covid related.
It was hellishly hot when the sun was out.  Luckily some clouds and even brief rain rolled in.  There were some other kids there, the two little girls were very cute.  At first they were shy but by the end of the party they both had warmed up to me.  It was a pretty buzzing party with a total of at least 15 people in attendance.  As usual I kept my social skills lubricated with a steady flow of alcohol.  I think DJ had a lot of fun which is what matters most.
Our Memorial Day didn't really have an official celebration.  Cindy was off helping her mom pick out furniture a good portion of the day and I decided to set off for another EUC swamp tour that turned out to be much messier than planned.  I had been told multiple times of a connector path between our swamp and the Bonita trail.  The couple times I looked for it previously I could not find it.  I was told it's clearly marked now so it sounded like it was time to try again.
I also brought my Skydio 2 drone along.  The last time I took it to the swamp it freaked out, flying above the treetops and refusing to come back down automatically.  The swamp was extremely dry which you would think is a good thing compared to when Dan and I had to lug wheels across tons of standing water in December.  However I was encountering a new issue.  The dry conditions meant a bunch of the sugar sand was super loose.  Hitting loose sand with an EUC is never good, the tire digs in and the odds of falling are highly elevated.
Once I discovered the now clearly marked connector path things went from bad to worse. 3/4 of the trail was exactly what I described, loose sugar sand.  Repeatedly I tried to ride and repeatedly I fell, several of which are captured on video.  I wound up pushing the wheel for miles which became extremely arduous once the sun broke back out from behind the clouds.  I originally planned to ride back from Bonita but I was too spent to do so.  I had no idea where I emerged on the other side, I sent Cindy my phone location so she could track me that way.  The two part video tells a pretty funny, aggravating, and curse word filled story.
I was spent last night as you can imagine.  Luckily editing video doesn't take a lot of physical effort.
Today I have a number of small like to do's, not must do's.  We will see how many I can knock out.  It's been a fun extended weekend thus far, here's hoping for more of the same for today and tomorrow.