On Saturday we weren't under any sort of time crunch to depart for the greater Titusville area.  I did all of the chicken chores, trying to make it as smooth as possible for Katie to maintain the hens for the following three days.  One of those tasks included soaking and cleaning Popcorn's rear end, something we have done several times the last couple weeks. (more on this later)
We were able to take our time getting the Model Y ready for it's longest road trip to date.  After eating lunch we shoved off for Fort Pierce, our first supercharging destination. Our route took us up the middle of the state which is more scenic for sure than I-75 and I-4 however it also includes slowing down to travel through some small towns and driving on some two lane roads, which can be aggravating if you get stuck behind a slow moving vehicle.  Luckily the Tesla has very comfortable seats so the discomfort penalty is small.  Cindy spent a good portion of the time sprawled out across the spacious rear seats, which she enjoys.
The Fort Pierce supercharger was at a Wawa.  I have had bad experiences with Wawa superchargers in the past where they were the weak/slow variety.  Luckily this installation seemed pretty new.  Early on the battery was charging at a rate of over 650 MPH, which is great.  In total it took us around 30 minutes to juice up before hitting the road again, we spent the time stretching, using the bathroom, and checking out the store.
The ride into Titusville went smoothly as well.  We decided to check in to the hotel before recharging again.  The hotel seemed to be very new, a Hyatt that was close to everything we wanted to do while there.  Our room was on the third floor.  The space felt like an ice box initially since the thermostat was turned down to 65 degrees.  After getting our stuff dumped into the room we went to the Titusville supercharger which was only four miles away.  This one was in a Target parking lot and again was a high power set up.  By the time we walked in and out of two stores in the shopping center we were good to go.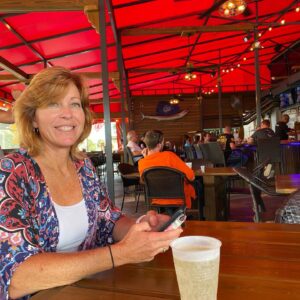 For dinner Saturday night we headed to an area called Cocoa Village.  It is a quaint old fashioned part of town, immune to the cookie cutter modern construction that plagues much of Florida.  We ate at Time Out Sports Bar.  We were outdoors right in front of the live music, which was a guy and his guitar who was good.  I had a couple beers and just enjoyed the laid back environment.  As rare as it is for me to just relax, when I get these sort of chances during road trips I always enjoy them. (refer to our time in New Orleans)
After dinner we wandered around Cocoa Village some more, it was very walkable.  We stumbled across an ice cream place where we both grabbed cones which we ate quickly before they melted as we continued walking.  We were both a bit tired from the day of travel so we didn't stay out late, retreating to the hotel to clean off the grime of a long day with a shower.
My first night of sleep in the hotel was not good.  I woke up countless times.  Sometimes it was due to back hurting from the very firm mattress, other times it was from a gross smell I kept experiencing.  I didn't know if it was coming from the AC system or something else.  The next day I discovered the source, the pillow I was using.  I don't know why it stank the way it did and I don't really want to know the reason.  Whatever the cause it got tossed in a corner for the remainder of our stay there.
They had a surprisingly good gym at the hotel.  After breakfast I went down and did a quick 30-40 minute workout just to feel better.  If I don't do organized exercise for extended periods of time I mentally feel poor as a result.  We allocated Sunday as our chill and do whatever we want day.  Our thought process was KSC would be less busy on Monday.  We decided to head in the direction of Cocoa Beach.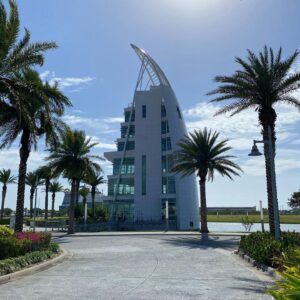 Out first stop was an observation tower.  Because of covid only the first and top floors were open but that was all we needed.  Up top you got a birds eye view of the region which was cool.  We could see the space center buildings far off in the distance.  Man that would be a sweet spot to see a launch.  Speaking of launch we were both bummed out that we missed a SpaceX launch at 12:30 in the morning.  We knew there was a launch earlier in the week but somehow this one escaped our radar.  Sure it would have been tough to stay up that late but it was a missed opportunity without a doubt.  I have never seen a launch live, outside of the plume trails from a shuttle launch or two in the Naples area.
We spent the rest of the day just checking out various things Cindy picked out as potentially interesting.  One of those was the huge Ron Jon's complex.  Cocoa Beach is the original home of the world famous surf shop.  The amount of stuff in the store was a bit overwhelming.  I grabbed a shirt and a hat and Cindy did the same.  Covid protocol in Florida was obviously a thing of the past.  There was hardly a mask to be seen anywhere.  Since I am fully vaxxed I felt comfortable going "naked", Cindy kept her mask on indoors.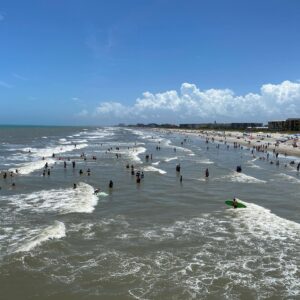 We also went to the Cocoa Beach Pier.  We found it very annoying that they had a flat $30 rate to park near the pier.  Instead we chose to park several blocks away and hoof it.  The exercise is good for us and we still got to take in the pier in it's entirety.  Like much of Cocoa Beach, the pier felt old and klunky, in an endearing way.
We also stopped at several spots to ride our PEVs around, Cindy on her Minipro and me on the OneWheel XR.  It was a unique experience touring some parks in this manner, I enjoy this type of sightseeing the most.
So when we headed back we decided to hit the supercharger again to make sure we topped off for the visit to the space center on Monday.  While we were there I suggested to Cindy we utilize one of the cool features of the Tesla, the ability to stream entertainment while parked.
I fired up Netflix and started browsing our options, I saw Ragnarok pop up, something I had heard about and was interested in but knew little details about outside of sort sort of tie in to the Thor story.  We watched an entire episode while charging and were both hooked, we found the show extremely interesting.  As I watched the show I noticed at some points the actors mouths looked out of sync with the dialogue.  At first I wrote it off as just a streaming bug.  I eventually realized it was because the Norwegian actors actually have english dubbed over, which is done very well.  It was clean enough that it didn't distract from what was going on.
So we went back to the room and all we wanted to do was binge watch more of the show.  That is exactly what we did, watching all six episodes of season one and the first two of season two, which just came out in May.  Our only break was a quick pit stop to grab food which we brought back to the room.  It was sort of nuts but again something we wouldn't normally do at home.  We really like the show.  We liked it so much that we managed to squeeze the last four episodes in on Monday, even with a KSC trip wedged in there.  It's a fantastic show which I highly recommend.
My sleep on Sunday night again was mostly lousy, perhaps a touch better than night one.  At least the pillow didn't smell.  We had breakfast at the hotel but had a casual pace as the KSC doesn't open until 10AM.  We arrived a little after 9:30, early enough to get a front row spot.  Since we had more time to kill I fired up Netflix again so Cindy could rewatch the last half of S2 E2 since she fell asleep while watching it Sunday night.  We finished up the show about 10:05.  We paid for our indulgence with a long line at the gate.
Cindy and I tag teamed the process.  She went to the Will Call window to buy tickets so she could get her military discount while I waited in the long line to get in.  The timing worked out well, she rejoined me in line about 5 minutes prior to us getting to the gate.  Unlike most of Florida, KSC has not thrown covid protocols out the window.  If you are fully vaxxed they were ok with you going maskless outdoors but any time spent in queue lines or indoors had to be with a mask.  The patrons seemed to observe the restriction without much issue.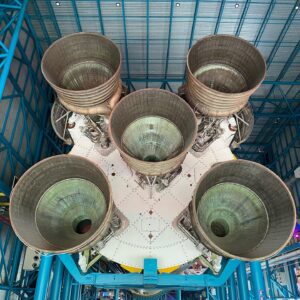 The facility had surprisingly short hours of operation, closing at 4PM.  The end result was we were hustling what felt like non-stop for the entire day.  We watched multiple presentations, took the bus to the Apollo/Saturn center, enjoyed the space shuttle center, ate lunch, did the shuttle simulator ride and wound up in the gift shop, 15 minutes before the park was closing.  If we had more time there is more we would have liked to see but we did a good job of taking in a lot of cool things.  My mind was constantly blown by the scale, complexity, precision, and tireless work required to make the space program work.  It is truly an amazing testament to just what mankind can do.  On the bus tour we saw a MASSIVE solar farm as well, the largest I ever had seen in person.
On Sunday we went back to Cocoa Village, enjoying dinner at another local hot spot, Murdoch's.  The building was again very old yet very charming.  With it being a Monday evening the crowds were light everywhere, which we noticed with our second ice cream shop visit and walking the area afterward.  I really enjoyed the older, hometown feel of the area.  We hit the supercharger once again afterward to top off for an early departure Tuesday morning.  We watched another Ragnarok episode in the car and finished it up in the hotel room.
We set a 6:30 alarm for Tuesday.  I woke up without after another subpar night of sleep, albeit the least shitty of the three.  We skipped the hotel breakfast and instead grabbed sandwiches along with our Dunkin Donuts pit stop before heading south and westbound.  Our trip back was an exact reverse of the trip there, stopping at Fort Pierce before the long push to our house.  While waiting for that charge we pulled out the PEVs one more time to zip around on.  While doing so we saw a bizarre looking lizard with an orange head and orange stripe around it's tail.  Cindy said she read that this was an invasive species. Florida has a lot of those.
The drive home went fine with the Model Y making the miles for the most part fall off quickly.  I utilized autopilot frequently to make the driving close to brainless.  When we got home Elsa was already there, Katie, who was taking care of the chickens, dropped her off shortly before.  We immediately dug into de-tripping, unpacking, putting away and throwing stuff in the laundry.  It didn't take very long until I found myself outside weed whacking, however before that more chicken care was required.
I gave the birds fresh water and treats but immediately noticed Popcorn was not acting well.  I can tell almost immediately when a chicken doesn't feel well.  They separate from the group, don't move around much and just give off a "blah" energy.  I have had concerns for awhile that Popcorn might have an egg blockage which can be deadly if they can't correct it themselves.  When I looked up signs for egg binding she had a bunch of them.  The first step in treatment is checking to see if there is an egg stuck in the vent.  You do this in the manner you would expect, a finger.  You basically lube up a gloved finger and stick it it the chickens rear end to feel for the presence of an egg.
When I presented this information to Cindy she was not enthusiastic.  I told her I would be willing to do the deed but I would still need her to hold the hen firm while I probe.  Before doing this I wanted to clean up her rear area which had dried gunk around it.  I held her backside in a warm tub with epsom salts and then rinsed her off while Cindy held her still.  It was the time for the digital probe.  I put on gloves that were too small for me but good enough.  I had some vaseline in a sandwich bag that I applied generously to my index finger.  I had several moments where I did a reality check, was I really about to stick my finger up a chickens butt?
The directions said if you insert your finger two inches and don't feel an egg the bird isn't egg bound.  I went in to my second knuckle and didn't touch anything hard so hopefully that means she isn't bound.  Surprisingly she did not really react to the violation by my finger.  After I was done probing I grabbed her and again dunked and held her butt in the water, which was recommended.  I repeated the dunking today, holding her in the water for close to 10 minutes.   She still isn't back to normal but definitely seems better than when we first got home Monday.
After the chicken fun was done I jumped into weed whacking the property.  The recent return of afternoon rain has kick started growth in the yard.  It took a long time and I was pooped by the end of it.  I didn't have much opportunity to worry about being tired as Katie and DJ showed up.  We had fun with them.  After whacking I was a sweaty mess.  I jumped in the pool.  It didn't take DJ long to want to join me, he loves the water.  They hung for several hours, it was a nice welcome gift.
Today I was buzzing around most of the day.  I took Cindy to an appointment and ran errands while she was in it.  When I got home I jumped on the mower for phase two of lawn maintenance.  As I was getting close to the end the deck was getting louder and louder.  With about 200 square feet to go the blades stopped spinning normally.  My immediate theory is the blade(s) was damaged enough that it wasn't spinning in a balanced manner which possibly loosened the retaining nut.  I did not have motivation to tackle the issue immediately so instead I parked the tractor and finished off what was left with the weed whacker.  I will dig into the tractor this weekend, I had Cindy stop to pick up a new set of blades for me on the way home.  Hopefully I can just slap them on over the weekend and all will be good again.
I pulled the old DVR our of the chicken coop.  I now have enough Ring devices out there for good coverage.  I may get a couple more eventually to get all 360 degrees of the coop area under surveillance.  I even had time to make a quick two minute video, a satirical one about how some EUC riders act when they are in a group ride situation.  Basically, for some people, common sense and responsibility are replaced with one upsmanship and showing off.  It was the first time I messed with a cloning affect.  It's far from pretty or well done but I get the basic concept and could do a better job going forward.
I popped open an impromptu live stream while I replaced the hot end on one of my printers.  It is a very random stream which you may or may not find entertaining.  It was a very fun mini-roadtrip but in some ways it will be nice to go back to work tomorrow, I prosper on a schedule.