My working from home experience yesterday affirmed that I could do my job remotely the vast majority of the time.  I was able to take calls, help users at remote branches, coordinate installations and even manage a WAN outage at four branches all from the comfort of my Titan gaming chair.  There isn't a lot of acceptance for the idea of us working remotely but it's something I am going to continue to push for on at least a limited basis.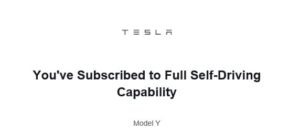 Yesterday I signed up for the full self driving subscription for my car.  The short term planned sub is to make my drive to and from Texas more enjoyable.  It will also allow me to reevaluate the feature which I had with my original Model 3 to see if it's improved.  Even if it has, I highly doubt I will find it worthy of an extra $200 per month. We will see.
Tonight I need to pack and get as much ready to go as possible.  Tomorrow I hope to get out of work as early as I can, make a brief pit stop at home and then get on the road.  I am thinking I will take my truck to work tomorrow and have the Tesla charge to 100% capacity during the day at home to maximize the range on the first leg of the journey.  Otherwise I would only be starting at 75% charge which is less than ideal for a long haul.