I left work about 2PM Wednesday afternoon so I could get home and tend to a handful of things before pushing off for Texas.  I knew I had an arduous task in front of me although the depths of it were worse than I realized.  After sitting on the sofa with Elsa for a few minutes I gave her a hug, told her I would miss her and backed out of the driveway about 3:30 PM.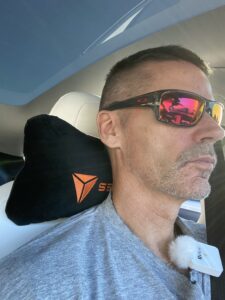 My buddy at worked had said he thought traffic could be oppressive with it being Thanksgiving Eve.  I didn't think it would be bad at all.  I was wrong.  I sat in stop and go traffic for close to an hour over the first leg of the trip, although it was due to a couple accidents, not overall volume.  As I was sitting in traffic I examined my trip details more closely in the Tesla.
When Torrin first mentioned doing this I quickly threw Naples to Dallas into Google and got back a number of less than 1100 miles.  She lives in Denton but it is close to Dallas so that was good enough.  My 5 second analysis was PA is 1200 miles so this is easier/less of a haul, good to go.   If I was being smart I would have entered her exact address into the car ahead of time to see the full route, including routing through superchargers, which I instead did after I already left.  This revealed a much uglier reality, with the trip actually being almost 1300 miles, further than PA, awesome.  I knew I had two VERY long days ahead of me.
After clearing the various traffic jams things started to clear up.  I was using autopilot/full self driving a lot as I was on interstate highway.  The best part of FSD for me is the auto lane change, especially in this scenario.  I just flip the turn signal and the car checks it's blind spot, changes lanes and turns off the turn signal.  Since you are doing hundreds of lane changes on a 2800 mile road trip, that feature alone was worth it for me.
The charge stops were mostly short, which seems non-intuitive for a Tesla novice.  Most of them were in the 20-25 minute range.  The reason for this is it allows you to spend most of your time charging at a very high rate.  Once you approach 80% charge the rate drops off significantly.  This shorter but more numerous charge stops strategy overall winds up being the most efficient way to progress.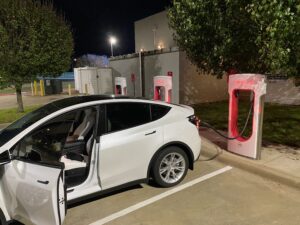 I was getting very tired but I knew I had to go as far as I could on Wednesday if I wanted any shot of getting to Torrin's place at a reasonable time on Thanksgiving.  I finally pulled over after midnight in Madison Florida which is just inside the start of the panhandle.  I needed to get some degree of sleep if I wanted to be able to handle the massive drive still ahead.
My Thanksgiving started with some very crisp air in the 30s, something I don't experience much.  When I saw the total distance I had remaining, 959, miles, I swallowed hard.  I once did this sort of mileage returning from a western road trip with Cindy.  We crossed Texas all in one shot which is 900 miles plus.  I remember how difficult that was, with TWO people.  The prospect of doing it solo put a black cloud over me from the start of the day.
Normally superchargers are located in retail areas with food and bathrooms readily available, which is awesome.  What isn't awesome is trying to road trip on Thanksgiving when almost every thing is closed, cutting you off from food and bathrooms.  Again my poor planning came into play, I didn't even pack any snacks.  The lack of bathroom facilities meant I wound up using bushes to pee more than once.  One time I pulled off the side of the highway and ran up a hill to some trees to get the job done.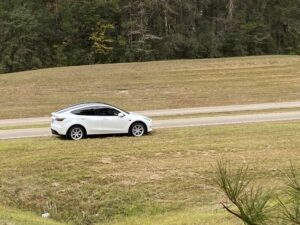 It was not a great situation.
So it was now mid-afternoon.  I was hungry but everything around the supercharger appeared closed.  I pulled out my V12 and rode around looking for ANYTHING.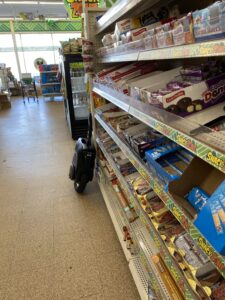 Well my prayers were answered, sort of when I spotted a Dollar General store that was actually open.  I pushed my wheel around the store as I carefully selected my Thanksgiving meal which consisted of a bag Party Chex, popcorn, some no brand granola bars and a Yoo Hoo.  Nutritional content was ignored as I scarfed down the junk food while I waited for the charge to finish.
As the day drug on I was getting more and more rammy.  My lower back was starting to hurt and despite spending over 12 hours on the road I still had a ton to go.  At around 6:30 I was again charging and looking for food options, which there were none.  I went into the nearby hotel and asked if they knew of anything open, the nice kid did not know of anything but he suggested Uber Eats, where they bring food to you.  He was nice enough to allow me to have a Hershey Bar for free, which was very cool.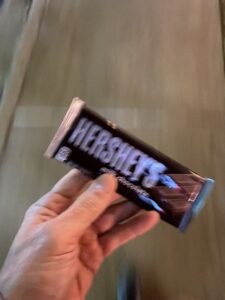 I already had the Uber Eats app although I never had used it.  I was surprised when it said I could actually get food delivered to me from a nearby Subway which was only 4 miles away.  I placed the order, added a big tip since it was a holiday and anxiously waited for my food to arrive.
The app tells you the status the entire way, it showed my order was received, and then it was being prepared, and then "finishing up".  It showed me the delivery persons name and ETA, sweet.  Well after being stuck on the finishing up status for awhile I suddenly got a notification that my order was cancelled!  WTF.  The details of the message explained that it was cancelled because the store was closed…  So all of that realtime updating was bullshit.  I dug back into my snacks to keep me going.
While I was waiting for Uber Eats I called my sister.  My ETA had now slipped back to after midnight.  I told her I think a better plan was for me to drive until I was a couple hours away, get another hotel and then head out early Friday.  That way I wasn't a zombie and they didn't have to wait up until stupid late for me.  Torrin agreed that sounded like a good idea.
I wound up driving until I hit Lindale Texas, getting to bed "early" which still meant after 11PM.  I was really, really wiped out as you can imagine.  It was certainly a Thanksgiving like no other.  I did feel badly about missing my original proposed goal of getting there by Thanksgiving, partly because it also happened to be my niece Emily's birthday as well.  Bailing early was the right thing to do but I still wasn't happy about it.
Friday I again hit the road about 7AM and drove straight to the Denton supercharger a couple hundred miles away.  As I was waiting I went into the nearby Walmart and bought a bike pump.  The tire on the OneWheel was almost flat and I brought no pumps with me, more poor planning.  I was able to get pressure back in the tire and then ride the board around the lot in very chilly temperatures.  My mileage on the car for the trip at that point was 1369 miles, even higher than what my revised number was, sheesh.
Finally I pulled into Torrin and Damons place a little after 10.  I had seen them in January of 2020 when they came to Florida to visit but I had not been to a house they were living in for something like six years, when they still lived in State College, PA.  Since then they have lived in Colorado for a little while before landing in Texas for the last 3 years.  They move around a LOT.
Their house is in a great neighborhood and the house is very large.  I got the tour shortly after arriving.  My bed was set up in the upstairs room which is used for homeschooling the kids and gaming.  Both of the kids were anxious to show me some games and kick my ass in others.  The one downer for me was the family cat, Higgins, got out of the yard 5 days prior and has not turned up since.  I felt really bad about it and found myself constantly scanning the area for any signs of him whenever we were outside.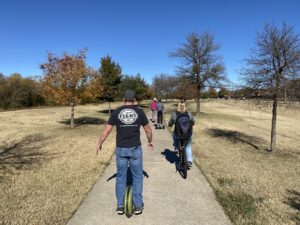 For lunch I had the Tofurkey Torrin bought for me, it still tasted good even though it wasn't Thanksgiving.  During the afternoon we all went down to a nearby park.  I had brought the V12, OneWheel, and Ninebot One E+ along for the trip.  My hope was the kids would be interested in learning the Ninebot EUC and I could leave it for them.
When we got to the park Emily took more of a liking to the OneWheel and within a few minutes was cruising around on it pretty well.  Griffin wasn't very into the OneWheel or Ninebot so he stuck to the Segway Minipro I got him last year for his birthday.  Damon really liked the OneWheel but he was also intrigued to try the Ninebot One.  After a pretty short learning curve he was up and rolling which was impressive.  He picked it up super fast and really liked the challenge of riding it.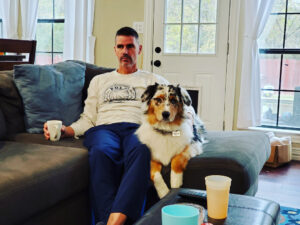 I forgot to mention a very important family member, Ozzy.  Ozzy is around a year old and he is a crazy bundle of energy.  He seemed to immediately take to me, wanting to be in my face constantly.  At first Damon and Torrin would keep disciplining him for crawling all over me but I assured them it was ok, I didn't mind.  Before long Ozzy presented me with his thick rope which he loves to play pull with.  He is a really a great dog.
The rest of Friday was chill with me eating more of the Thanksgiving leftovers, us watching a movie and spending a lot of time upstairs with the kids watching/playing games.
My first night of sleep was ok except for the ticking of a clock on the wall.  I kept telling myself there was no need to get up and pull the batteries out.  Surely I should be too tired to have it bother me.  I regretted that decision later but I still got the most sleep of the trip so far.  Ozzy was my alarm clock as he flew onto the bed with the rope in his mouth,  I laughed out loud.
On Saturday the weather was downright awful.  It was cold with steady to hard rain for almost the entire day.  I spent some of the time working on the 3D printer I bought them last Christmas.  They got a few prints out initially but then had some problems.  I was able to walk through a few steps to get it printing well.  I was so frustrated when I saw the end result of UPS not giving a shit with the computer I sent to the kids.  It looked like they dropped it off a truck, the frame of the bottom is bent to the point where the side no longer fits on the case.  Luckily the computer still works 100% but it looks like it was whacked with a bat.
I loaded up software on it for the 3D printer as well as demonstrating Tinkercad for everyone so they could design and print their own stuff.  It will be great if they get more use out of the printer.  Of course we played more games as well.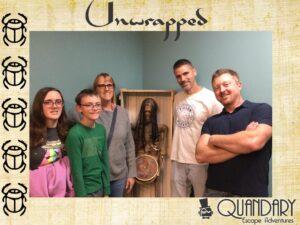 During the afternoon Damon arranged for us to go to an escape room, something I heard about but never experienced before.  He and Emily had done it once before and liked it.  You are given a back story and an objective and then are inserted into a room where you have an hour to solve all of it's secrets.  Our scenario was very involved, or at least it seemed it to me.  Solving all of the puzzles and opening the associated locks was definitely a team effort with all of us figuring out some parts of the room at one point.  You could also ask the game master for hints if you hit a dead end.  We had to do that 4-5 times which I didn't think was too bad considering how much stuff we figured out ourselves.
We thought we were done but realized there was more to do when a secret room was revealed, requiring more problem solving.  We just barely solved the room in time, we had 39 seconds to spare.  I think we all felt a sense of accomplishment.  It was a unique and fun way to spend an hour, I would do it again.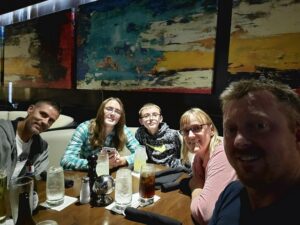 Saturday night we went to dinner at a real nice place that Torrin and Damon have enjoyed many times.  We got there early enough to avoid waiting.  The wait staff was very friendly and the food was good all the way around.  It almost gave me the feeling I used to get at the Naples Carrabas before they sterilized it.  When we got back home we watched the original Home Alone and of course more video games were played.
Early Sunday morning Damon took me to his "office".  His office is a huge data center for Schwab.  The security, scale, and scope of this data center is pretty amazing, far beyond anything I have ever seen in person.  It's a 1000 square feet of server racks stuffed with millions of dollars in equipment.  He is in the middle of setting up a second room of the same size in the same building.  Working in a huge corporate network like that was never appealing to me, the closest I got to that was when I worked for a bank back in the 90's but it still was nothing remotely as complex as what I saw.  Damon loves the challenge and he excels at what he does.  On the way back we drove by a new Facebook data center.  It was enormous, covering something around a square MILE.  If you want to feel shitty about Facebook and just how incredibly deep their pockets go thanks to your data, look up their data centers.
The weather was better Sunday so we did another ride to the park which was fun.  Both Emily and Damon really impressed with me with how quickly they got up and rolling.  The rest of the day was a mix of activities.  I helped Damon with Christmas lights, we ran to Home Depot, played video games, watched Home Alone 2, picked up Chinese food for dinner and just hung out, something I don't get to do much.  Oh yea, Torrin and I actually got to watch the Eagles/Giants game as well which surprisingly was being broadcast locally. The Eagles made a ton of mistakes which lead to them losing in an embarrassing fashion to the the Giants.  It was a depressing game to watch but fun that I got to do it with Torrin.  I can't tell you the last time I watched a football game with her, if ever.
Sunday was my last night with them and I tried to not dwell on it.  Even with a short 3 day visit I had a chance to interact and bond with the kids.  Knowing I would be back on the road the following day was a bit sad for me.  I had my best sleep of the trip on the my last day there, ironically.
I woke up without an alarm around 6.  I was already mostly packed so I spent some time playing the game that Griffin was demonstrating to me all weekend, the new Zelda game on the Nintendo Switch.  I was able to progress through a few levels and left the game paused so Griff could see my progress.  Everybody crawled out of bed early to see me off.  It was great seeing everyone but sad that it was time to go.  I played one last quick game of rope with Ozzy and then headed east, somewhere around 7:30.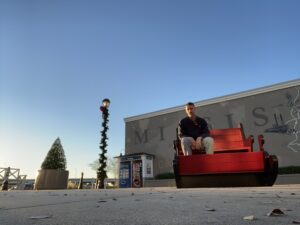 My hope was to hit the road hard on Monday, making the Tuesday portion less oppressive.  I hit a lot of the same charging stops as the way out.  The big difference was now everything was open which made the stops much more enjoyable as I could freely use the facilities.  The weather was perfect with cool temps and blue skies.  I did a lot of documenting of the trip on Instagram, taking some odd/funny shots like this one where I sat in a sleigh with seemingly no one around me.  All of the malls I went to on the way back were almost empty, it makes you wonder how they keep the lights on.
I pushed deep into Monday night not stopping until I was about 30 miles east of Pensacola in a town named Crestview.  I had a decent night of sleep but set another 6AM alarm to get things rolling on Tuesday.  I had 580 miles to go which is still a ton.
The weather was again great for the drive but I found myself getting frustrated as the ETA kept slipping backwards.  I did make a stop at one of the nicest rest stops I have ever seen.  The bathrooms were high end, meticulously clean, and nicer than you would see in most restaurants.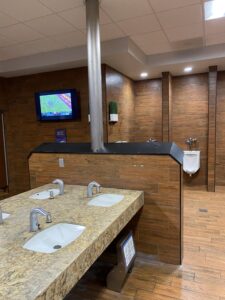 The place had a Burger King AND Dunkin Donuts along with a ton of unique crafts and souvenirs.  It worked out well that my charging time at that spot was one of the longer ones.
I finally arrived at my last charge stop at Land O Lakes.  It also was my longest charge, I was there close to an hour getting the necessary juice to go all the way back to Naples.  I spent the time rolling on the One Wheel and watching videos on YouTube.  My entertainment with all that driving consisted of podcasts and listening to Howard 101 which has infinite clips from his 40 years of radio.
During the last segment I was putting the pedal to the metal, pretty much ignoring speed limits.  As long as there were other vehicles going the same speed as me or faster I was ok with it.  I just wanted this trip over at this point.  Over the two days I spent somewhere around 27 hours traveling, excessive, in anyone's book.
It felt a little surreal as I pulled into the driveway, knowing how much had occurred in the 6 days since I left.  Elsa of course was manic, beyond excited to see me again.  It felt good to get such a loving welcome.  I systematically emptied the car, going from back to front, trying to handle things as they come.  I got laundry going quickly and put everything away that I could.  After feeding Elsa and checking on the chickens I stayed up until after 11 getting the video of the trip to Texas edited which you can see below.
I took Wednesday off as well to get things back in order.  Luckily Cindy handled things around here so there wasn't all that much I had to do.  I got the second video edited/uploaded and have been cramming through this blog entry which takes a loooong time.  Of course doing these things gives me ample opportunities to reflect on the trip.  I am glad I didn't go with my initial knee jerk reaction of "it would be too much trouble" when Torrin suggested the trip to me a month or so ago.  Some things are worth the trouble.
Being around Torrin and her family gave me an appreciation for the connection family gives you, something I sorely needed in this time of general upheaval in my life.  Since my siblings and I have been geographically separated for most of our adult lives, family interactions become a casualty of that reality and I felt that more now than ever after the visit.  I am very grateful for the hospitality, love and caring that was shown to me. It makes me wish that thousands of miles weren't a constant obstacle. (maybe fly more) The trip was an adventure, just like all road trips are.  It's why I hope to find a way to make them a more regular part of my existence.