My ride back from work on the Sherman went very smoothly and quickly.  I stopped and got coffee on the way home and encountered another locked DD lobby however not due to low staffing.  Evidently this location has been closing the lobby at 5 since covid.  I had no choice but to wheel myself through the drive thru instead.  Although the ride went well my recording equipment suffered a malfunction.  For some reason the external mic rig stopped working right after I got to Dunkin Donuts which made a good chunk of the footage unusable, which pissed me off.  I told a couple funny stories during that time that went into the ether.
As always Cindy was quite relieved to see me rolling up to the front door around 6PM.  Riding 50 miles in the midst of rush hour traffic always has it's inherent risks.  My back and legs paid a bit of a toll after all of that riding but I was still able to function.
So I had my weekend list written and ready to be crossed off Saturday.  Cindy, Katie and DJ went to some plant show thing in Fort Myers, leaving me alone to get stuff done, when I am usually most productive.  By the time they got home I was in the middle of completing my forth or fifth list item, replacing the rubber seal on the bottom of the garage door.  This task is a pain.  Removal of the old hard and shrunken rubber seal is easy.  Installing the new piece would be easy, if you had two people involved.  Since it was just me I had to very slowly push some in the one side and then go to the other end and pull out that small amount of slack.  Each cycle only advanced the the rubber a few inches so it was not a great time.  Luckily I had done this task a couple times before so I knew what to expect.  One of these times I will get Cindy to help me.
On Saturday night Cindy and I did something we haven't done in forever, went out to dinner for Valentine's Day.  I let Cindy pick the spot which she wanted to have widely spaced outdoor seating.  Despite the continuing covid concerns the restaurant was busy, we probably waited a half hour to get an outdoor table.  I didn't really mind the wait as I grabbed a couple beers and enjoyed them on a nearby bench outside.  It felt nice to have at least something that resembled normalcy.  Cindy and I both enjoyed our food.  I'm hoping the positive experience makes Cindy more amenable to maybe going out a bit more.
One of the chores I did Saturday was running our carpet cleaner, as always the task was overdue.  I took the cleaner into the hobby room where all of the printers and EUCs are located.  I plugged it into one of the power strips on the workbench.  After a few seconds the cleaner shut off and the one UPS was beeping.  I evidently overloaded the UPS unit.  That would have been fine however this particular UPS happened to be the same one supplying power to the printer that was three days into building the Mandalorian helmet.  I stood there in disbelief for a few moments.  This printer does not have the power failure resumption feature most of my other printers have so I was f'd.  I cursed myself for my stupidity.  You can see the end result in the time lapse I was shooting of the build.
Saturday night we watched an entertaining thriller, Hunter Killer.  It stars Gerard Butler as a sub captain trying to fend off all out Russian/American war.  It was a long film but I hardly noticed, I'd give it an A.
On Sunday morning Cindy and I took a ride to our new and near Dunkin Donuts.  It was very windy, so much so that Cindy's Minipro was hard pressed to complete the less than 6 mile ride.  During the ride I retold the two stories that were lost due to the mic failure on Friday.  I doubt I was as effective in telling either story but they were still funny, especially my dad hanging up on me and telling me to go to hell, three times. During the ride I also announced the answer to a contest I was running to win a free t-shirt, how much did I spend on DD in 2020.  The answer is shocking to some I am sure as the category in Quicken totals $1650 for last calendar year.
Last week I had received the new bigger green screen I wanted to try to use for some of my VR video capture.  The bigger screen allows for a bigger filming area.  I set this up in the space by the front door Sunday night, far from ideal but it allowed me to test out my equipment.  I discovered how to better utilize the green screen effect allowing me to make the best mixed reality Half Life Alyx video I have made so far.
By Monday I had pretty much all of my list items completed so ideally that would mean I could just chill on Presidents Day.  Instead I found myself drawn into doing more indoor cleaning chores.  I just wanted it done and when I want something done I will rarely wait for someone else to do it for me. I spent at least half the day doing cleaning, fixing and organizing.
Last week I did some more digging into the deficit in my solar production compared to the usage I have been billed for by LCEC.  I first contacted the company that monitors my solar equipment.  They verified that my system produced right around 24000 KWH in 2020 which what it was supposed to do.  I asked them if somehow there could be a big parasitic loss because of the long run from the panels to the house.  The short answer was no, there is some loss but it is not a significant amount at all. His advice was to call the electric company and see what they say, so that is what I did.
I talked to three different people at the electric company until I got one that finally was able to shine a light on what is going on. When he reviewed the 2019 bills he came to the same 2000 KWH per month average usage number as the sales rep did.  However he noticed a dramatic increase in my monthly consumption that started in June of 2019.  Now that was when Katie, Daniel and the baby were living with us briefly until their house was completed.  The initial usage spike was connected to having 5 human beings in a household instead of 2 however the increased usage trend continued even after they moved out, just to a lesser degree.
The LCEC rep asked if anything else changed during the second half of 2019 and the more I thought about it the more I realized that is when the 3D store really started accelerating in growth, resulting in my running multiple printers for long periods of time.  A 3D printer pulls a decent amount of power and running multiple printers simultaneously for hundreds if not thousand of hours in total are going to impact your electricity usage.  So the bottom line is if we would have looked more closely at the usage trend in 2019 we would have specc'd the system even larger than it already is.  I could have/should have done that myself but I assumed the sales guy gave me realistic numbers.  So the bottom line is I either need to print less or accept that although my solar will take a 24000 KWH bite out of my yearly usage, I still will be on the hook for something.  At least I now have a clear picture of what reality is.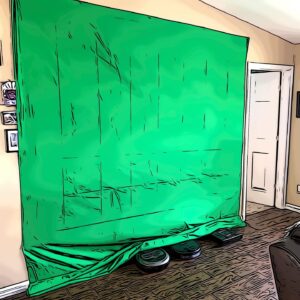 During the day Cindy and I took a dramatic green step, attaching the new big green screen temporarily to the wall facing our bedroom.  It's a wide and high wall with a lot of open space in front of it if we move the couch.  We secured it with simple push pins so it can be taken down easily but for now it gives me a good spot to mess around with filming more mixed reality VR videos.  We set up Cindy in front of it last night as a test.  The output turned out pretty well.  I want to try it out with various games to see how they translate.  Editing these videos is a bit challenging as you have to get the two video sources synced but once you make that happen the rest is pretty straightforward.
Here is just one of the 8 short Cindy videos I made.  In overall number, this may be the most videos I have ever published in a three day period.