So I ordered a replacement canopy for the yard tractor back on July 17th online at sears.com.  When I ordered it I opted for local store pick up to save shipping charges.  When the order was placed there was no mention of any sort of delay.  When I heard nothing for 10 days I called Sears and was forwarded to what appears to be an India based called center.  I struggled through the communication barrier to discover that the canopy would not show up in store until August 6th, some three weeks after my order date.  WTF?? Well I had no choice but to wait it out.  While we were at Comic Con I got a text message and an email indicating that my order had arrived and I could pick it up.  I figured I would get it yesterday morning.
So I pulled up to Sears, which is part of our local mall around 10:20. I was lucky to spot the door used to pick up online orders, near the auto center.  The pick up area had two doors, one automatic, which didn't appear to be working and a manual door which was unlocked.  I step inside and a young girl behind sliding glass said "We are still closed!"  I pause for a second and say to her, "What do you mean you are closed?"  as I just walked in the unlocked door which apparently happens to also be an employee entrance.  The girl tells me the store does not open until 11AM.  Again with a confused look on my face I said "You are closed until 11AM on a Monday??"  She again confirmed the store does not open until 11 which apparently was a recent cost savings move made necessary by Sears dismal fiscal situation.
Well my emotion shifted from confusion and surprise to anger.  I did not want to twiddle my thumbs for 40 minutes until the store officially opened.  I went on a bit of a rant, telling the girl I have been waiting for this item to show up for three weeks and I just drove close to 25 miles to pick it up.  I told her the notifications I got about my item being available made no mention of the restrictive store hours.  I was dug in and ready for a fight because this transaction had already been a pain in the ass.
The girl must have sensed I was not going to take no for an answer very easily.  She said the guy in the department that handles online orders just came in and "once the printer warms up" he will try to help me.  As I was waiting an old lady that worked at Sears came out to the lobby and was telling me the woes of Sears/K-mart from an employees perspective.  I told her how my transaction was an example of why customers don't want to deal with Sears anymore.  She sort of agreed with me.
So the order guy came out and asked my name.  He disappeared a couple minutes and then emerged with my box.  I thanked both him and the girl that originally told me NO for accommodating me.  It was a small redemption of an overall negative transaction and indicative of why the old retail behemoth is circling the drain.  It seems like the great anti-Sears crusade my dad started in the 70's might finally be coming to fruition.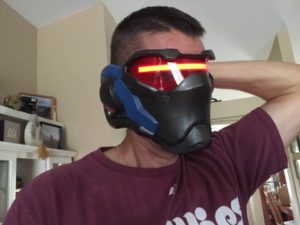 Yesterday the box I was praying would show up last week before departing for Comic Con arrived.  It was the Soldier 76 mask I had ordered three weeks ago, almost at the same time as the tractor canopy.  The Ebay listing had a huge delivery window range, saying the item could arrive anywhere from July 28th to Aug 12th.  I ordered the mask hoping the China based seller would be under promising and over delivering.  Well it didn't work out that way.
Luckily Cindy hand crafted me a mask to use in case this exact scenario occurred and she did a great job on it.  Both of us were complemented repeatedly at the Con about the quality of our attire.  If I had this mask it would have been off the charts.  Not only is the mask pretty much an exact replica of the in game mask, it even has a LED light across the visor to complete the visual. It is extremely cool. The good news is the jacket and visor aren't going anywhere so whenever Cindy and I decide to jump back into another cosplay event I will be ready to roll.
The mask and the whole cosplay experience have started Cindy and I talking about some of the things that could be done if we had a 3D printer.  Once I have some more Amazon points accumulated it might be another mid-summer Xmas present to ourselves.
We had hoped to get out on the Segways on Monday afternoon however prolonged rain washed those plans away.  We spur of the moment decided to go out to a matinee of Suicide Squad.  I knew the movie had big opening weekend numbers.  I heard of Suicide Squad once or twice but never had any tangible comic book knowledge of them.  There were so many characters involved it was tough to get a good feel for a lot of them.  Some of the "heroes" seemed pretty lame, especially the boomerang dude.  I came away with much the same feeling I did with Batman vs Superman, the movie was entertaining enough for a B+ grade but it wasn't better than any Marvel super hero movie I have seen in the last 5 years.  DC so far just is not in Marvel's league when it comes to big screen productions.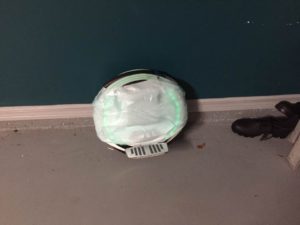 Last evening I got back on my Ninebot One for the first time in a week.  Earlier I had wrapped it in some packing foam to help protect both myself and the bot from falls.  My goal was to work on getting off the wheel in a calm fashion instead of the "reach down, grab the wheel and then hop off awkwardly" thing I have been doing so far.
The intent is to slow to a stop and then simply step off with one foot, keeping the other foot on the bot, like you would do with a bike.  In theory it should not be too hard.  I tried repeatedly and just could not get it.  Each time I tried to step off with one foot and no hand assist the bot would wind up laying on it's side.
It became apparent that the foam I used was not going to be up to the task.  Even those gentle layovers started to rip it in various spots. So although I was unsuccessful with proper dismounting, the good news was I went up and down the driveway around 10 times with no falls.  I still had some wobbling and still felt only loosely in control but any session that doesn't involve me or the Ninebot barrel rolling on the cement is a win at this point.
I recently installed Snapchat on my phone, an app that I have avoided since it came out branded as primarily a sexting application.  It of course has turned into much more than that.  One of the cool features is it's ability to overlay faces onto a person which can result in some pretty hilarious video clips.  My initial efforts were LOL funny, if I do say so myself.
---