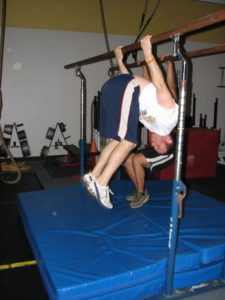 So I mentioned on my Dufisthenics blog how my right ear popped while I was reversing out of a skin the cat, a difficult calisthenics move that has you upside down and inside out.  When it happened it felt similar to what happens on an airplane although I also started with an immediate low volume ring in that ear. I assumed the exertion from the move caused the ear to close and it would open up shortly.
Well it's now Monday and it hasn't opened at all.  I am worried I did something more serious.  I found some blood on my pillowcase over the weekend which I am afraid could have come from the ear.  I have tried various fixes, like yawning widely, the valsalva maneuver, cleaning out the ear with peroxide, and lots of nose blowing.  None of it has worked.  I am hoping to get an appointment at the on site employee clinic here so someone can take a look inside to see what is going on.
When I came home Friday there was a pretty incredible storm blowing through with sideways, torrential rain.  In the time I had the garage door open to pull the Tacoma inside the front half of the floor had a pond form.  It was crazy rain that of course once again left the property a mucky mess.
On Saturday Cindy and I had a full errand circuit, hitting Pinch-a-Penny, Dunkin Donuts, Rural King, Racetrac, and Home Depot.  By the time we got home the back of the Tacoma was fully loaded down with gas for the mowers, chlorine for the pool, sod, mulch, a 50 lbs bag of chicken food, and a few other items.
After eating lunch we headed outside to get busy.  Cindy worked on installing the sod in areas the chickens have destroyed, a task we have to repeat on a regular basis.  I worked on getting the 20 bags of mulch laid down.  Once again the chickens were the impetus behind the work as their tireless work kicking mulch out of several landscaped areas left nothing but muddy dirt in a lot of spots.
While we were working Ali and her boyfriend stopped by to drop off Sadie which was nice.  We gave them a quick introduction to the chickens.  It was the first time Ali had been in the back yard in a looong time so she was surprised how much things have grown/changed.
After I finished with chores I got out on my Ninebot One.  I had seen a video that made me realize what I was doing wrong when it comes to turning so I wanted to test out the tips.
I was successful doing some simple turns along with a few fails.  I was able to ride a circuit down our driveway, onto the street, into the neighbors half circle driveway, back on the road and into our driveway without falling.  The key was realizing I needed to control the lean of the bot on slower turns from the knees down instead of leaning my entire body.  I felt good about the progress.
Saturday night we stayed home and watched our Netflix rental, 10 Cloverfield Lane. We both liked the original Cloverfield which was a very odd but scary movie.  10 Cloverfield will have you scratching your head as you try to figure out what exactly is going on.  Of course I can't give away the plot but I'll tell you the movie had both Cindy I and yelling out loud, more than once. It's a solid B+ film.
On Sunday morning I set the alarm for 6AM which Cindy wasn't thrilled about.  I actually was awake a couple hours previous to the alarm for whatever reason so when the alarm went off I felt like death.  I set the alarm so we could accomplish a goal we talk about often but never accomplish, getting out to run before the sun is up in the sky.
We got to the track around 6:45 and started our roughly three and a half mile training run.  We have hopes to compete as a relay in a 10 mile race at the end of October.  This was our first step towards that goal.  The run was challenging, even without having the sun in the sky baking us.  The air was still very humid and we also had to dodge the poorly adjusted water sprinklers that in some cases shot out 15 feet across the running surface.  The run was not easy but we completed it, averaging about 9:30 per mile which was fine.  I am pretty confident that in the span of two and a half months Cindy and I can tack another mile and a half onto that distance for the race.
When we got home we went for a coffee run with Sadie in the back seat.  When we got home Sadie acted like she was disaapointed and did not want to get out of the car.  We made an illogical decision to grab her leash and head right back in the direction we just returned from to go to Home Depot even though we had no real reason to go other than we knew Sadie would like walking around.  We did wind up buying a few things while we were there, there is ALWAYS something we need for a home repair/project if we think hard enough.
Early afternoon Cindy and I took the Segways out for some more dual riding fun.  We rode around another development area.  Once again the Minipro's delivered easy, quick, low stress fun.  I found that my Ninebot One riding actually made riding the Segway feel a but weird for a few minutes as it is a much different experience.  In total we put in a little less than 5 miles on the ride.
Later in the afternoon I got in some extensive Ninebot One training.  I wanted to build on the turning progress I made the day before.  I figured the school parking lot would be a much more beneficial location to do it.
I bet a spent over an hour at the school grounds.  During this time I felt that finally the elusive IT clicked in my head, I just could ride.  During the session I put in excess of six miles on the wheel, traversing a variety of surfaces including the parking lot, sidewalks, speed bumps, road, the running track and even a 100 yard section of open grass.  Don't get me wrong, it is not easy for me and I still had moments where it felt like I was close to falling off but I stayed on the wheel.  It felt sort of awesome.
The closest thing I can compare it to is when I taught myself to juggle as a young man working as a meat cutter at Weis Markets.  It had a similar feel where it felt nearly impossible at first but through practice and determination it became another reflex reaction.  Riding a EUC was similar from the mental standpoint with the addition of a physical toll that is paid in bumps and bruises.  I was proud for forcing myself to continue to get on the wheel time and time again, knowing the end result was going to be me falling off and/or hurting myself.  48 years of age is definitely not ideal for learning a new balancing skill.
After getting home and announcing my accomplishments to Cindy I was anxious to build upon it more.  I threw the wheel on the charger for an hour or so and headed back out.  I came up with the goal of running the complete length of 8th street, something I did the other day in multiple segments, as one continuous ride.  As I approached the dead end side near the county fairgrounds I came up on a family that was out in their driveway.  I could tell they were all looking at me with confusion.  When I got closer the father said to me, "What are you, some sort of wizard??"  I laughed as I kept rolling and told him there were a ton of falls before I got to this point.  I was able to complete the roughly three mile circuit without falling or getting off once.
That wasn't enough for me, I went out once more a little later as the sun was setting.  I wanted to get some FPV of me riding, something I was far too unstable to consider doing previously.  The LED light rings on the Ninebot One are really cool and I wanted to get a good shot of them, something you can't do very well in bright sunshine.  The end result was the video below where I again ran an uninterrupted but shorter circuit. Once again, it felt awesome.
I still am not nearly as smooth or stable as I would like to be.  I still have regular wobbling that kicks in but for whatever reason my body can just deal with it and keep rolling.  My turning is not fantastic but I was able to maneuver a lot of sidewalk angles successfully when I was at the school.  I honestly feel at this point I could go on a ride with Cindy on a bike path or slightly populated sidewalk and be ok.  I need to be much more focused when riding the wheel than on the Minipro but as time passes I am expecting single wheel riding to become more and more a reflex instead of conscious thought.
This newfound ability has me wanting to be on the wheel more and more.  I wouldn't be surprised if it finds it's way into my trunk for some lunch break riding now and then. 🙂  In total three weeks have passed since I received the wheel.  If you factor in I did no riding the week prior to Comic Con my learning curve has been roughly two weeks.
---