On Friday evening I hopped on my latest electric unicycle, a cheap $200 unit whose only purpose was to give Cindy something safer to learn on.  The wheel is small and slow which is a good thing when learning.  It also comes with detachable training wheels that you bolt to the foot pedals to keep the bot upright while you get a feel for the balance point.  Cindy did not react favorably to my surprise purchase which I already expected.  However through a careful negotiation she agreed to try once again to learn.
She has a big advantage now that neither of us had when the Ninebot One arrived. First she has someone in the household that has absorbed a lot of bumps and bruises so I can help guide her on ways to avoid them.  Second, this cheap wheel is better suited to learning.  In addition to the training wheels it also has a strap that can be used to further assist keeping the wheel upright. I of course had to take the wheel out for a test ride myself.  It felt like a child's toy compared to what I was used to but the basic functionality was all there. You can see my test ride below.
Saturday morning I was outside bright and early to get the basic chores done, taking advantage of the cooler temperatures and lower humidity.  I wanted to get done early because Cindy had indicated she wanted to cruise two nearby community yard sales on the PTV's.  We drove to the gas station and used it as a launching point since it split the difference between the two developments.  We spent nearly two hours cruising around in the beautiful weather.  We got TONS of comments about the wheels, everyone was curious and interested in them.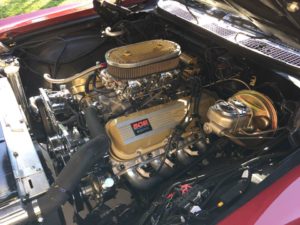 I was very interested in an absolutely beautiful 1970 Chevelle we saw that had a 502 engine in it, something I had never seen but evidently is a popular aftermarket choice.  He actually had TWO of these motors, one in the car and another he built to sell which was on display in his garage.  It was awesome.
While we were riding around I spotted a large black bird that at first almost looked like a chicken walking near the sidewalk.  As I got closer I realized it was a buzzard.  As I got even closer I realized the reason he was walking was his left wing was injured, it was hanging low awkwardly.  Of course my initial instinct was I wanted to help the bird but being on an electric unicycle far from the car made that trying to capture/aid the bird not logistically possible, buzzards are very large birds. As we rode away from the bird I felt very guilty.  The guilt continues as I recall it now.
Later in the afternoon Cindy and I headed to Home Depot.  The primary intent was I wanted to scope out the price of new extension ladders.  The 20 footer I have just is not long enough to safely reach the top of several of the trees on the property.  Since I plan to tackle that project Friday I wanted to be prepared.  Well when I saw I would have to spend around $300 to upgrade to a ladder that won't easily fit in my storage sheds I shit canned that idea but Cindy came up with a better one.  She recalled that ladders were among the tools you can rent from Home Depot.  We went into the tool rental department and saw I can rent a monster 32 foot ladder for 24 hours for $50.  It was a perfect solution.  I plan to pick one one up on my way home from work Thursday.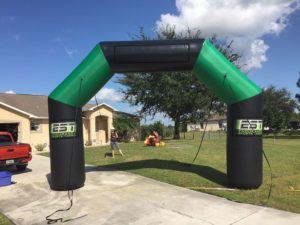 Later in the afternoon Cindy and I erected the inflatable arch for the last time.  I wanted to take measurements so I could list the arch for sale.  I felt a bit bittersweet about it but still confident that it was a good move for me to let race timing behind.  I was surprised I got some immediate interest int the arch and sold it for my asking price.  I dropped the two large boxes off at FedEx this morning.
Saturday night Cindy and I went to see Dr Strange.  My knowledge of Dr Strange was very, very slim.  I knew of the character and that was about it, I never read any Dr Strange comics.  The movie is an origin story which I thought was well done.  We saw the 3D version of the film and this was actually a situation where it was merited.  The crazy visuals associated with the mystical world was well served with an extra dimension.I have liked pretty much every Marvel movie of the last 10 years and Dr Strange did not break that streak however I would rate it in the bottom third of those films.  I'd give it a strong B+.  Don't forget to stay till the end.  The ending bonus content got me excited about what is to come.
Saturday night was the clock switch meaning my Sunday run was no longer starting in utter darkness.  Instead when I pulled into the parking lot at 6:45 the sun was already rising which felt a bit weird.  The temps weren't bad and I completed the four plus miles at a pace within a few seconds of the previous week although it did not feel like it during the run, which was a bit of a struggle.
Katie and her boyfriend Daniel joined us for our Sunday morning ride.  I brought my training EUC with for Cindy to start learning on.  Not only did Cindy try it (and did well), so did Katie and Daniel.  Daniel's progress was the most amazing.  He went from not ever riding an electric unicycle to being able to roll without training wheels down the sidewalk within an hour.  To be young again, sheesh.  Like I mentioned, Cindy did well, I am hoping we can keep her moving forward in her progress.  Once it clicks for her I am pretty sure she will be better than I am.
So I got to watch the Eagles for the fourth time this year go down, continuing their winless streak in the NFC east.  Carson Wentz, despite putting up the most passing yeards of his young career, did not play great, throwing two consecutive bad interceptions in the first quarter that put the Eagles in a quick 14 point hole.  As positive as I am about Wentz he definitely does not seem good at touch passes.  I don't think I have seen him hit a receiver in stride on a long pass all season and his endzone post pattern throws just do not have the trajectory or accuracy that is required.  Hopefully he can clean up that part of his game eventually.
The decision by Doug Pederson to twice go for it on 4th down when the team was in easy field goal range will be questioned.  I do like the aggressiveness but you have to have the personnel to pull it off.  Both failed 4th down attempts not only failed but failed miserably.  Of course those 6 lost points were exactly the margin that would have secured a one point win for the team.  If there is a bright side to losing three of the last four games, I would say every loss, except the Washington game, the team played well enough to win.  My expectations for the rest of the season have shifted back down closer to where they were week one.  If we split wins and losses the rest of the way it will still be a more successful year than what I first thought.
Last night we watched our latest Netflix rental, Neighbors 2.  It was much like the first iteration with a few spots of laugh out loud laughter back filled by a lot of silly shit.  I think I gave the first one a B.  I will stick with that rating for 2.0