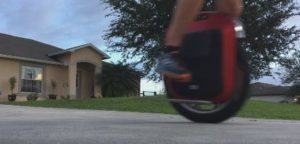 So although Cindy and I ride our EUC's a lot we haven't been doing any practice and that is an important distinction.  When we are cruising around on the weekends we are basically just enjoying the ride and taking in the scenery.  However when you have designated practice sessions, that is when you actually get better at doing stuff and it's something we haven't really done much of at all lately.  My last concentrated practicing was when I learned the basics of riding backwards months ago.
So after dinner I randomly asked Cindy if she was up for some driveway practice and she said she was.  She took her Inmotion outside and I rode the Monster.  Cindy worked on her turning, slow riding, control, and the first steps towards backwards riding.  I worked on some backwards riding, one legged riding and mounting, yes mounting.
Free mounting on an EUC is something I learned a long time ago with one catch, I really only learned how to do it one way, with my left leg on the pedal and the right foot on the ground.  I have gotten very adept at mounting and dismounting that way so I neglected to really work on doing it with the legs flipped around, I need to.  Being a one trick pony when getting on and off the wheel affects your ability to turn and do emergency maneuvers.  It makes sense why I am so much more comfortable making left hand turns than the right hand variety.  The EUC muscles on the outside of my left leg are much more developed.
So I worked a lot on getting on and off the bot with my legs reversed.  I felt like I was transformed back in time as my body just was not comfortable mounting from the other side.  I could also feel the muscles on the outside of my right leg getting worked in an unfamiliar way.  By the end of the half hour or so session I was getting better and better from that side, a testament to why I need to keep practicing.
I also did a little one legged riding where I would lift my right foot totally off the pedal for a brief period of time and balance myself and the bot on one leg.  It's a bit tricky and puts a lot of torque on the supporting leg but I could do it at a basic level.  Finally, I did more backwards riding practice, something I have only done a little of on the big Monster.  I felt shaky the first few attempts but again, by the end of the session things were smoothing out. It was a real fun session and reminded me why regular practice beyond normal riding is a requirement if you want to keep getting better.
So the Big D made his latest blunder yesterday, deciding now was the perfect time to alienate the LGBT community by declaring the military no longer will allow transgender individuals to serve.  One of the reasons were the "tremendous medical costs" the military would have to deal with?  WTF???  Our military which routinely pays $400 for a toilet seat is now concerned with medical costs for a few transgender members of the service?  Is there a rash of people that were joining the military so the government could pay for sexual reassignment surgery??  Come on, this is just stupid.
Sadly myself, and a good portion of the country I imagine is getting desensitized to buffoonery in the White House since it is literally a near daily occurrence.  The dangerous side effect is people just shrug their shoulders and move on while things at the top rot from the inside out.