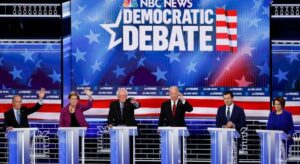 I watched more of the democratic debate last night than any prior iteration.  The main reason was I was interested was to see how Mike Bloomberg, who has been rising in the polls despite just entering the race a couple months ago.  He has done so almost exclusively by TV ads and little else ( pun intended).  It is a testament to how malleable much of the electorate is, how easily they can be swayed by money alone.  Well despite his 50 billion plus, he got destroyed in the debate.
He came out of there looking like he was suffering from PTSD as he was repeatedly assaulted by the other candidates.  Elizabeth Warren struck the killing blow digging up all of the NDA agreements Bloomberg has with females to buy their silence over alleged incidents of sexual misconduct.  Bloomberg asked if he would waive the NDA's verbally on the spot which he awkwardly and sheepishly declined.  He came out of the debate terribly in my opinion and I think he would be best served to take his mountain of cash and go home right now.
Amy Klobuchar, who consistently has received praise for her prior debate performances, finally cracked.  Mayor Pete obviously rattled her when he pointed out she did not know the president of Mexico's name when asked the other day and making light of it.  He doubled down on the pressure pointing out she serves on a committee that deals with Mexican relations.  She instantly departed her normal happy countenance and instantly flipped into B mode, accusing Pete of calling her dumb, which he didn't do.  Pete smacked her around on her voting record as well on immigration issues which again solicited a similar response from Amy.  It was the first time I had seen her lose it, and it wasn't pretty.
Joe Biden has turned into a cartoon character, or more specifically, the grinch.  All he did all night was act outraged repeatedly as he stared into the camera with a very grinch resembling look.  The way he portrays himself you would think he was president during Obama's run.  Hell it was almost like he thinks he was Dick Cheyney.  Joe is done, just like Bloomberg. No one cares what he has to say.
Elizabeth Warren as I mentioned earlier chopped off Bloomberg at the knees and I think overall she represented herself well.  However I just think her loud and generally angry persona hurts her as a female candidate, which is ironic because that is what many would see as a strength for Bernie.  I like Warren but I have a hard time seeing her being able to generate the sort of energy needed to get the voter turnout necessary to make change happen.
I think Buttigeig really is a gay, white Obama and that is meant as a compliment.  His measured, calm but intellectual responses to both questions and attacks is pretty amazing to watch.  I respect intelligence and the ability to communicate effectively immensely when it comes to political candidates and he gets an A+ in those areas.  I think the fact that he has some ultra-rich supporters isn't quite as nefarious as Bernie and others have painted it to be although I do understand the concern.  I really do like his approach to issues like health care that may be characterized as less radical and more realistic.  I think seeing him debate Donald Trump would be a fascinating dichotomy of polar opposites in personality and beliefs.
So all that remains is Bernie.  I love Bernie, I have contributed to Bernie's campaign.  I believe in Bernie's core concepts that the system has been rigged for decades and needs to be retooled.  Bernie was his usual loud, gesticulating self, saying many of the same things we have heard since 2015, which still remain true, in some cases even more so.  I think his policies are so out of the box that they could mobilize a good portion of the 30-40% of normal election non-participants to get out there, which is a republican's worst nightmare.
Bernie is not a young man, which concerns me, but he obviously has no shortage of energy or enthusiasm.  The bigger issue I have is although I love his ideals, I am also a realist and know that without ripping out a large part of the seated congress, none of his policies have a shot of coming to fruition.  You can't implement Medicare for all without congressional support and it isn't there, nor do I see it being there anytime soon.  Without term limits and outlawing the lobbyist system, I have no idea of how that would ever change.  So part of me is conflicted because the bottom line is I want to see some sort of appreciable change take place.
So anyway, it will be interesting to see the fallout from last night's debate and it will be interesting to see which candidates rise and fall as a result.