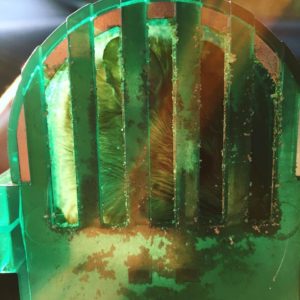 If it was possible to create a blueprint for how I would like most weekends to be it would be like this past one.  The weather was perfect with cool mornings and pleasantly warm afternoons with an abundance of blue sky.
Saturday morning I got out and resumed my running program after a two week hiatus due to illness.  Although the act of running three and a half miles was difficult as expected, it was offset by the sense of accomplishment afterward.  The cool air temps in the mid-50's definitely was beneficial.
When I got back Cindy let me know that I managed to catch another one of the palm rats, bringing my total to four.  As with the others I drove the little annoying bastard a couple miles away and let him loose into the undergrowth to fend for himself.  I know there is at least one more adult in the coop area.  If I can catch him I will finally feel ready to rerun the wires for the DVR system.
My new routine of making sure there are no mice in the coop when the door is closed seems to be a solid plan.  Before when I had the coop door on an analog timer I was never quite sure when it would close.  The end result was most of the time I put the chickens to bed the door was still open and would close later.  Well if a mouse entered during that interim it would spend the entire night chewing on whatever it could to get out.
A couple weeks ago, when I installed the new wi-fi router, to replace the mouse damaged one, I also installed a Wemo smart switch on the coop door.  I now know exactly when the door closes and I make sure to go out there after that happens.  When I tend to the chickens I now include probing all possible mouse hiding spots with the broom handle to make sure none are inside the coop.  That, paired with the ultrasonic rodent repellent we put in there seems to have kept the inside of the coop pest free.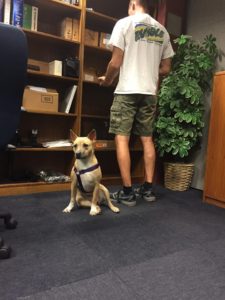 Saturday after completing some chores Cindy, Elsa and I headed out for a long errand run, stopping at something like a half dozen places along the way.  One of those places was the office to swap out a failed hard drive.  Another was Tractor Supply, a place we only have been to a couple of times.  Despite being a lot smaller than Rural King, I liked their selection of several things more.  We finished up eating lunch outside a pizza place where Elsa chilled under the table while we enjoyed a good slice of pizza.
I got notice that Patrick's birthday gift was delivered.  I sent him the Segway S1 that I bought at Christmas.  It was sort of my plan all along to give it to him.  It is a cool little wheel that will be good for Pat and his girlfriend to learn on.
Saturday night Cindy and I watched Dark Tower, our latest rental.  I remember when the movie came out a lot of people that read the book were not happy with the film adaptation.  Since I never read the book, I did not have that bar to measure it against.  To me it was entertaining although a bit strange to see Matthew McConaughey play the villain. I'd give it a solid B rating.
Sunday morning we slept in, for us, to almost quarter till 8.  Mid-morning Cindy and I headed out to the Naples Greenway with the big Segway I2 in the back of the truck.   I discovered that transporting the Segway is a two person job, at least when it comes to loading.  The unit is somewhere around 120 pounds which I normally could throw around pretty easily, the issue is the size and design of the I2 makes it damn near impossible to one man it as there is nothing to really grab on to.  I can manage to lower it from the truck myself but I utilized Cindy to help me load it at the Greenway.
Our objective for the ride was to locate the new bridge that connects the Greenway to downtown Naples.  It was Cindy's first time riding the Segway I2 out in public.  She was conservative at first but soon got adept at leaning into turns with her entire body.  We found the new bridge and it was very impressive, a beautiful and long structure.  It spills out at what will be an awesome resident park in the near future called Baker Park.  It connects to the newly renovated Central Avenue.
Central now is very bike friendly with large and clearly marked bike lanes.  We decided to ride all the way to the Gulf of Mexico.  It felt great to be able to ride all the way to the beach using bike safe routes.  On the way back we ate lunch at The Bowl.  We both had all fruit concoctions that consisted of acacia berry, bananas, granola, honey, hemp seed hearts, blueberries, and a couple other things.  It was very good.
The ride was much longer than I expected and the used batteries on the I2 performed much better with Cindy at the controls.  The slower speed and her lighter weight only consumed three bars of battery life out of eight.  We both really enjoyed the ride and would like to maybe actually spend some time on the beach the next time we do the same route.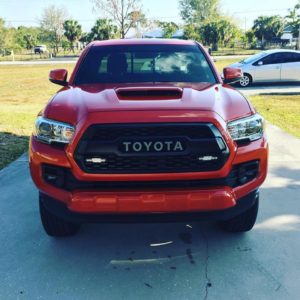 Late afternoon Sunday I got out and washed my Tacoma.  I finally got around to applying some paint sealant that was highly rated on Amazon.  On the bottle it claimed how you could do a complete vehicle in 10 minutes!  Well although it was less labor intensive than conventional wax, I still busted my ass for at least 45 minutes applying the sealant to the Tacoma.  You only work in small sections, first applying with a circular motion followed by back and forth to finish up.  Since it is a clear product, it is annoying to try to determine where you stopped and started since you have no wax haze to guide you.  I guess the first time the truck gets wet will determine how good the product is.
The rest of Sunday was spent editing video, creating 3D projects, and playing some WoW.  It really was a great couple days and was a reminder that I could seriously retire and never have to worry about being bored.