Cindy busted ass on Friday trying to get a lot of chores done so us being gone Saturday wouldn't be a big deal.  I set the alarm for Saturday morning so we could get up and get the chicken clean up done before rolling out.  We dropped Elsa off at Ali's so she could spend the day with Sadie.  Since Elsa stayed with them during our last road trip she is very comfortable there and we feel good knowing she will be well taken care of.
The drive across state in the Ioniq was easy.  The smart cruise control the car has makes highway travel simple and safe.  You set the desired speed and the cushion you want behind other vehicles.  If you encounter another vehicle the Ioniq will slow down as needed to maintain that distance.  If you swing out in the passing lane it automatically will accelerate once it sees the path is clear.  The only unpleasant portion of the journey was the last 10-20 miles where we were engulfed in typical stop and go traffic on I-95.  I still don't see how people can deal with that day in and day out.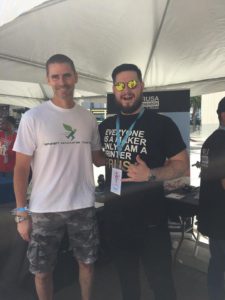 We found the college where Maker Faire was being held without issue.  We swung into a nearby parking garage with flat rate $5 parking which is reasonable.  For some reason I assumed the Maker Fare was indoors, it was not.  Only a couple of exhibits were indoors which was fine, although I was glad I dressed temperature appropriate, it was 86 degrees when we left.
One of the things that actually got me interested in going to the event was I saw Prusa 3D printers was going to be there, including the founder, Joe Prusa.  Well the Prusa tent was right near the one entrance.  They had two MK3's (the next printer I want) printing models as well as a bunch of other examples of things that it printed sitting on the tables.  We talked to the guy working the stand for awhile and I said I that I thought Joe was supposed to be there?
The guy pointed behind me and there he was.  Joe is really a big deal in the 3D printing world.  His Prusa i3 design has been knocked off by many Chinese companies.  Even though he is from the Czech Republic you would think English is his first language.  Cindy and I talked with him for awhile and even showed him the big 3D Widowmaker rifle we made.  I told him I hoped they would have a couple MK3's available for sale but sadly that was not the case.  Joe did say that the backlog for them is less than it was.  It was taking 3 months to get one, it's now down to a month and a half. 🙂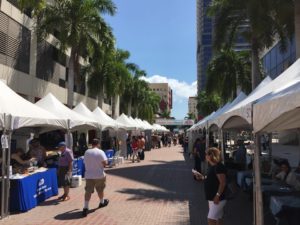 That was a great way to start the event and the good vibe continued throughout our time there.  The people working the booths were really friendly and engaging.  They seemed very excited to share information about the stuff they are so passionate in creating.  We saw creativity in many different ways, it was great.  We finished up with a good lunch at one of the food trucks parked outside the venue. Cindy and I both really liked the event and I would be happy to go back again in the future.
So we still had some time left and had thrown the EUC's in the back of the car, just in case.  We walked back to the garage and suited up for a quick ride down to the Bayside area, a very happening shopping/food district by the water.  It was part of the Port of Miami so we got a good view of several massive cruise ships get ready to depart.  We only rode for maybe a half hour.  It was Cindy's first time back on one wheel in a couple months so we didn't want to push it too far.
The drive back was front loaded with traffic, this time getting out of Miami.  Once we got back onto Alligator Alley it was smooth sailing.  Elsa had a great time at Ali's and didn't seem in a rush to leave.  We actually wound up taking Sadie back with us since Ali was going out Saturday night and was planning to be gone a good portion of Sunday. We got home before 6PM, it was a testament to just how much you can experience in a span of 10 hours.
On Saturday night we watched Atomic Blonde, one of those movies that was interesting to me but not enough to lay out theater level pricing to see.  If you are looking for a good splattering of nudity, action, plot twists, and just high energy, this film will do nicely.  The ending just nudged into A- territory for me.
So my Saturday run got transplanted to Sunday.  Once again the temps in the low 70's with humidity made the session feel uncomfortable very early.  I may as well get used to it as there are another 7 months of such weather ahead of me.
Cindy's big vinyl cutter showed up late last week and she has been testing it out, trying to learn the ins and outs of it.  Although it is without a doubt not a high end cutter in fit and finish, it does work.  In some ways it works better than the Cameo 3, it cuts fast and it's simplicity is in some ways more appealing.  The software that is included also isn't as bad as I first thought it could be.  It makes certain types of projects really easy to do.
My 3D EUC store got off to a nice little start, selling three stands in the first 24 hours.  One of them is going all the way to Belgium.  The customer is paying as much to ship the stand there as the stand costs.  It will be interesting to see if demand will continue.
Yesterday afternoon I dedicated a couple hours to sprinkler replacement.  In total I pulled out nine Rain Bird sprinklers that had stopped oscillating.  It was pretty easy to tell which ones weren't working as there was a narrow swath of green surrounded by brown.  The Hunter sprinklers I replaced them with are supposed to be some of the best so I hope I get many years of trouble free performance out of them.  Despite it only being April 8th it was quite warm in the yard mid-afternoon.
After returning inside I didn't feel guilty just geeking out in WoW for a few hours.  It's hard to describe exactly why the virtual second universe I exist in is so appealing to my brain but it's been my escape for 12 years and counting.