As the roof project has been progressing I have been trying to get my drone in the air after each day to see the progress from above.  Last night after work I did my final fly over of the completed project.  I am happy about the overall outcome and I am looking forward to reflecting tons of heat in the future compared to the heat absorbing dark shingles the house used to have.  It should make a BIG difference based on my experimentation in the chicken coop with a light roof versus dark.
Besides the new roof, the video also depicts just how dry and arid our property is right now.  Despite using the sprinklers regularly the grass is just dying everywhere.  It's amazing that within three months the same property will look like a pond in spots from all the rain.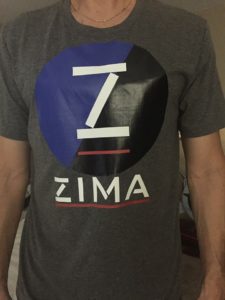 Last night Cindy surprised me with a project she has been working on in secrecy, a custom made Zima t-shirt.  At first glance you would think she found the Zima logo online, blew it up and ironed it on the shirt.   Well you would be mistaken.  She actually used a logo as a visual aid but she created this piece by piece, using various geometric shapes to create the visually impactful shirt.   I was quite surprised by the gift and appreciated the latest example of her creativity and thoughtfulness.  I wasted little time before posting the picture of the shirt on the #zimapermanent group on FB.
This weekend I have a pretty healthy list of things I'd like to get done.  One of the things I want to do is clean the flashing on the roof overhang before gutters get installed in a month.  They are gray and dingy.  My plan, at least initially, is to hit it with some good old elbow grease using a brush, soap and rags.  We'll see how long that plan lasts.  I also need to figure out if I broke my pool light or not with my failed WeMo switch implementation.