Christmas Eve this year didn't require really any last minute shopping from me which was nice.  Cindy was the one that had so much to do because of her family coming over for Xmas eve dinner.  She also had to teach two classes in the morning.  I grabbed my One Wheel late morning and headed to the park to go take a very enjoyable casual ride in near perfect weather.  I was worried I might struggle to ride with the mysterious, out of nowhere, pretty severe left hip pain I developed on Sunday but it wasn't too bad.  Riding an EUC is actually much tougher for me right now because I normally use my left leg as the "anchor" when mounting and dismounting.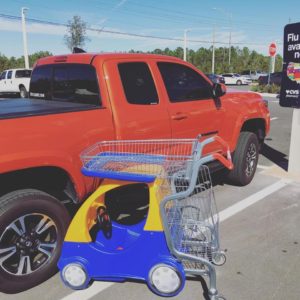 I did make a stop at CVS and Publix on the way home.  I returned to my truck to see some lazy asshole left me an early present, their shopping cart against the side of my truck.  Luckily the angle of impact did not dent the truck but I was instantly aggravated with the lack of responsibility and pure laziness of individuals that cant take the time to put their used carts in an area designed for them.  The me first, fck everyone else attitude is something that makes my blood boil.
During the afternoon I helped Cindy with whatever she needed help with, which wasn't much.  She made a ridiculous amount of food and baked goods, enough to probably feed 20 even though we were only forecast to have seven or eight people show up. We wound up having a couple less than that.   Cindy's mom and niece showed up about six with Katie showing up after work.  Katie had to work Christmas Eve and Christmas, one of the reasons I never considered food service as a career option.
Despite the light turnout we had a good time.  Katie and Daniel's "big" gift from me showed up about 7:30 that night, wow talk about going down to the wire.  I told Katie to stay in the great room while I quickly wrapped the electric skateboard in the dining room.  The get together broke up somewhere around 9:30.  The massive amount of food meant there was a massive amount of clean up to be done which I did my best to help with.  There were so many leftovers that we had to utilize the fridge in the RV to store some of them.  When we finally got to bed we were both thoroughly exhausted.
I must have been tired because my normal early internal alarm clock which used to be extra early on Christmas was turned off.  We didn't get out of bed until after 7:15 which is a couple hours later than it used to be.  There were a lot of years where the presents were already opened by that time.  After getting up my first task was to go out and clean up the chicken coop where I wished the hens Merry Christmas although they clucked at me just like it was any other day.  I did give them some extra treats which they appreciated.
So maybe an hour after we woke up we finally got to sit down and start unwrapping.  Cindy always complains that I get her more than she gets me.  Well this year she seemed determined to settle the score.  She bought me way too many things.  Like I have said, during the last decade or so I really get more enjoyment from giving rather than receiving.  At this point in my life Christmas can be any day of the year for me as I buy what I want most of the time.  Repeatedly I told Cindy she bought too much.
Although it was too much, the things she got me I liked for sure.  It was the most "toy" heavy Christmas I have had for quite awhile with a number of tech and gadgets for me to play with.  Some of the highlights were a led lighted gaming pad, a new G-Shock watch, Fire TV Cube, a GoPro 7, and more.  It was a crazy amount of stuff.  Cindy seemed to like the stuff I got her as well which was all I hoped for.
After the opening ceremonies were done we ate breakfast and then started digging into opening, configuring and putting away the dozens of gifts.  It was a very long process that consumed a good portion of the day.  Late in the afternoon I wanted to take a quick ride to test out the new GoPro 7 and see how it worked in it's stock form for my EUC videos.  The answer was good and bad.
The 60 FPS video quality was quite good and the new "hypersmooth" tech does indeed deliver near gimbal level of stability to footage which is very cool.  The bad part was the audio.  The default automatic noise reduction on the camera steps all over my voice while it is active.  I immediately ordered a foam wind breaker case similar to what I have for my GoPro 3 to address the problem.  It was also strange that the default video setting was 4:3 format instead of 16:9, something I didn't realize until I was processing the footage.  Overall I am happy with the camera and I think it will be a nice upgrade to the video quality of my stuff.
Katie and Daniel showed up a few minutes after we returned from the ride.  Cindy gave them their presents and then the grand finale was the Meepo skateboard that arrived the night before.  They were both excited but Daniel was especially since he has more of a skateboarding background.  I went outside with him to test it out.  Even though the battery was only about half charged he was able to rip up and down our street at 20+ mph pretty easily.  They both thanked me repeatedly which was sweet.  They couldn't stick around very long as they had presents still to open at Daniels dad's place.
During the day I got my calls in with my family, talking to my dad, brother and sister.  It sounded like a pretty gray Christmas in western PA.  Evidently this is the first year that at least one of the kids was not at my dad/stepmom's place for Christmas which had my stepmom understandably sad.  Combined with my dad's very Grinch-like attitude towards the holiday, I don't think my stepmom had a good Christmas whatsoever.  My brother and sister are supposed to be there this weekend however so hopefully some belated holiday cheer can come Teresa's way.
I was telling Cindy that it is odd to me that somehow I wound up embracing Christmas the way that I do.  I have absolutely no religious connection to the holiday, my Dad has always disliked it, and my mom seemed lukewarm about it most years.  I'm not quite sure why at 51 years of age and no children why I put so much energy and anticipation into the day.  It will likely just be one of the many unanswered mysteries of life.
Our Christmas evening wound down rather peacefully.  I felt both good and sad at the same time.  I was happy that my efforts were well received and all the actions, money and planning we both put into this year's celebration went as we hoped.  Even with that good outcome I had the same feeling of post-Christmas letdown which I have had more or less my entire life.  I don't feel there is anything in particular I can do about it except just move forward and focus on what's ahead.
It doesn't help that I have to work the next day.  I'm not sure how many years it has been since I worked the day after Christmas.  We have either had it off or I took it off for at least the last five years if not more.  The upside is at least I can resume my normal routine which includes the gym to combat the grossness I feel from eating way too much delicious but calorically dense food for multiple days.