So last night was unconventional as far as Monday's go.  I went to a Tarpons game.  Instead of going with Cindy, who was teaching a class last night I wound up going with Ali and her boyfriend Shugs.  Shugs had never been to a Tarpons game so I thought it would be cool for us to go.  Ali went to the Tarpons games with me while we were still married but she was down with going as well.
We had a stroke of good luck, as we were waiting in line to buy tickets a guy said he had three tickets we could have.  I recognized him as the team doctor, I think.  We thanked him and walked in happy with our free ride.  We grabbed some food and beers and headed to our seats that were on the opposite side of the arena that I am used to sitting on.  Our seats were actually quite good, row 11 almost at mid-field.
Ali was confused, the tickets said the visiting team was called the Sharks but the scoreboard said Dragons.  The ornate dragon on the players right leg seemed to confirm we were playing the Dragons as well.  After four or five years as a Tarpons fan things like this don't phase me, opponents change all the time for whatever reason.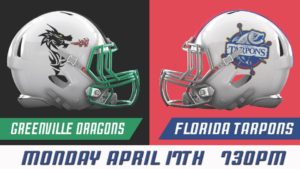 The Dragon offensive backfield was visually quite odd.  Number zero lined up in a fullback position.  This guy was probably 5′ 6″ and weighed 300 pounds with about 100 pounds if that in his massive gut.  Their quarterback was very thin and had absolutely no rear end.  It seriously looked like he had it surgically removed.  The Dragons offense was pretty anemic but their defense was good.  It became clear pretty early the Tarpons were going to have a tough time of it.  The Dragons defensive coach was angry and fired up all the time and it seemed like the team fed off his energy.  There was more hard hitting in this game than probably any other I have seen.
The end result of this was the lowest scoring, tightest final score of any arena game I have attended.  The game came down to the final possession.  The Dragons had the ball with a minute to go and one point behind.  The Tarpons managed to intercept a pass from the no ass QB to seal the 13-12 win.  Despite the lack of scoring I thought the game was entertaining.  Ali and Shugs seemed to have a good time as well which was cool.  It makes me happy that the three of us can hang out and enjoy each other's company.  It is sort of how I always hoped things would turn out.