Friday I was really hoping to not have the after hours work take a lot of after hours time since it was only a small office that was being worked on.  Unfortunately we once again ran into a problem that stretched things out longer than it should have,  I wound up not getting out of there until after 7.
On Saturday morning I was outside shortly after 8am with the weed whacker in hand.  The yard had not been whacked in at least 3 weeks and was looking shaggy.  With the return of more regular rain I am going to have to get out there more often.  The heat and humidity knob has been turned back into the uncomfortable area where it will likely stay until October, yay. After whacking I jumped in the pool for a splashy splash session for Sadie which she greatly appreciated.
We then headed out for errands including a stop at Rural King and Sam's.  At Rural King we say the running club equipment manager Bill.  It was the first time I saw him since I timed my last race.  Bill might be the hardest working human being I know.  Even though I don't miss most aspects of timing events for the running club, being able to work with guys like Bill is one of the things I do miss.
We hit Sam's on the way back.  With the sale of the Tacoma I was now seriously looking to pull the trigger on a replacement 4K tv.  During the week I was doing research and had established if I wanted to continue my upward growth of screen real estate I was going to have to pay in the neighborhood of $3400-$3500 which would be the most I ever paid for a set although when you adjust for inflation it might be in the same ball park as my 61 inch Sony projection set we bought when the house was new.
That was a lot of money for a tv but I had almost mentally committed myself to that just being the way it was, like I had no choice in the matter.  I had a 73 inch screen now so I HAD to go bigger.  Well Sam's didn't have a lot of 75 inch models but we did see a 70 inch LG 4K set that we looked at.  The picture looked sweet, even if it was 3 inches shorter diagonally.  We have had a LG set in the bedroom for over a couple years and have been very happy with it.  However the thing that really got my wheels turning was the price differential.  The LG was an $1800 set, almost half the price of a 75 inch Samsung or Sony (Samsung doesnt appear to make 4K 70 inch sets).  To pay $1700 for an extra 5 inches of screen area jolted me out of my MUST HAVE BIGGER trance.  I did not act at that point but it planted a seed.
We also went to the jewelry counter.  Cindy and I had been talking loosely about marriage for a long time and as a result Cindy has been looking at rings here and there.  One of the places she has been looking is at Sam's who actually has a pretty substantial jewelry section, much bigger than Costco.  Randomly Cindy had sent me pictures of various rings she saw there she liked over the last couple months. We had even looked at rings online at places like Amazon but the idea of buying a ring sight unseen seemed risky.
Now my initial reaction when she told me she was looking at rings at Sam's was negative.  I assumed they were not good rings as though they were a Wal-mart item even though Sam's sells a lot more high end, high quality stuff.  Well when Cindy showed me the rings in person the stigma faded.  Not only were they good looking rings, they were certified diamonds and I could add an extended seven year warranty for a very reasonable price.  The buying power of a warehouse chain results in better pricing of all things, including jewelry.
Cindy showed me several she had liked.  Of course she wanted a beautiful ring but it was most important to her it was comfortable.  After putting on 4-5 rings she liked we finally agreed on one.  We took an unconventional but practical approach and just bought the ring on the spot.  Cindy did say that she wouldn't wear the ring until I asked her in a more conventional manner.  So the ring remained in it's box and bag on the drive home despite Cindy's excitement to wear it.  I told her repeatedly she can just wear it but she was adamant that I needed to propose officially which I guess I could understand.  After two previous marriages my sense of formality about the process was not a priority for me.
When we got home I did some more quick research and thinking about my TV options.  I quick search on Amazon showed the LG set I saw at Sam's had a 4+ stars rating which I put a lot of weight into.  Costco has the same set which would mean I would get a free 2nd year of warranty coverage but I would have to pay for it with my Costco American Express card instead of my Amazon Rewards Visa that I wanted to pay with for points.  Although I wouldn't get a free year of warranty coverage Sam's has very inexpensive extended warranties, I could tack on five years of coverage for a crazy cheap 99 bucks.  As comparison a place like Best Buy or HH Gregg will charge you 400 bucks or more for equivalent coverage.
So I made a decision I was going to just go with the LG set.  The savings versus size loss equation was just too heavy on the savings side.  I told Cindy I wanted to go back to Sam's and get it.  We piled back in the Tacoma and headed out.  I brought the GoPro with and mounted it in the Tacoma, I told Cindy I wanted to vlog about the tv purchase.  Unbeknownst to her I also had the ring in the center console.
My plan was to officially propose to her on the way. Now most people would think this was a dumb idea but we aren't most people.  Cindy actually had joked about the idea on the drive home earlier.   Her joke was about to become our reality.  So we started talking about the new tv purchase along with other random topics, none of which had to do with the ring.  I then finally made an awkward transition into the proposal as I was driving 55mph+ on Immokalee Road.
Despite us talking about it earlier Cindy seemed surprised by my actions.  The proposal was definitely the farthest thing from textbook as you could imagine since I made sure my eyes stayed on the road most of the time.  However I think somehow the sentiment and genuine feelings still were evident despite the unconventional delivery method.   Despite the lack of secrecy regarding the ring Cindy was still very excited and happy to be able to wear it officially.
It's funny how the whole thing sort of organically happened.  I did not go into the weekend with any specific thoughts or plans about buying rings or getting engaged.  The circumstances just seemed to align themselves.  We have more or less lived as a married couple for more than a couple years so making it official just wasn't as stressful as you would normally think.
So now the tv purchase took on a more celebratory aura.  We wasted no time grabbing a flat bed and loading the big LG set onto it as well as one of the extended warranty cardboard placeholders.  Checking out with my wallet being an extra $1500 heavier felt satisfying.  I was glad I reexamined my tv priorities.  The enormous box actually fit cleanly on it's side in between the wheel wells of the Tacoma.  I think the bed of the truck is slightly larger than what I was accustomed to in the 99 as well.
Of course when I got home I dug straight into tv set up.  Cindy helped me set the 73 inch Mitsubishi in the dining room and place the slightly smaller LG set in it's place.  Despite it's reduced dimensions it fit the entertainment nook well, I only had maybe an inch or so extra space on either side.  Setting up the set went fine until it came time to connect it to my Yamaha surround sound.  I first tried to do so with a spare optical audio cable I had sitting around for awhile.  When I couldn't get that to work I tried using the ARC HDMI port and had limited success.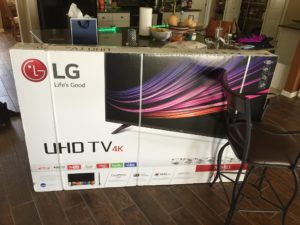 The most straightforward way was to use the optical audio cable.  The cable I had did not seem to fit well on either the tv or Yamaha side.  I wondered if the cable was just bad so I headed back out one final time to grab a new optical cable at Wal-mart.  When I got it home I realized the only thing wrong with the old cable was my stupidity.  The optical cables have a small protective boot on either end.  I was trying to insert the cable with that boot still in place.  Once I pulled the boots off the cable snapped in place perfectly and sound started flowing from the speakers, sigh….
We watched a movie on the new set Saturday night and the picture looked great.  The movie was called Knock Knock, starring Keanu Reeves sporting quite the dad bod.  It was one of the more bizarre movies I have seen recently and had me laughing out loud during some scenes that I think were supposed to be dramatic.  Keanu meets up with two chicks that take crazy to an entirely new level.  If you like your movies to have you saying "What the fck?" a lot, be sure to rent it.  Overall I can only give it a B rating but really, on pure entertainment it could be rated higher.
On Sunday morning Cindy and I wanted to beat the now increasingly oppressive heat by getting out for our run earlier.  We left the house around 7:15.  We put in another 5k+ at the nearby track.  The pace according to Cindy's gps was 15 seconds a mile slower than last week but it didn't feel that way, perhaps from the heat.
When we got back I made arrangements to take Sadie back to Ali's later in the morning with the 73 inch Mitsubishi in tow.  I had asked Ali awhile back that if/when I got around to getting a new TV if she wanted the 73 incher.  She said sure since her 48 inch or so LCD tv is really not big enough for the room she has.  They sit a good 15 feet away from the tv location.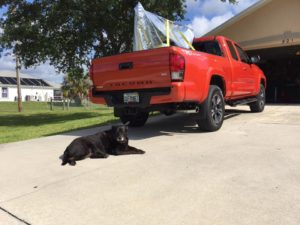 So the Tacoma got it's first real world use as we loaded the large tv into the bed and I secured it with my ratchet straps.  We covered it with the mylar looking bag the new tv came in.  In addition I had the empty chlorine jugs in the bed which needed to be refilled.  The new rubber bed mat really is awesome, eliminating the ice rink sliding that goes on if stuff is just on the composite plastic bed.
Ali's boyfriend helped me carefully carry the tv into her place.  Set up had a couple hiccups but nothing serious.  The 73 inch of screen fit that space so much better and made viewing from across the room much, much easier.  Ali and her boyfriend thanked us for the tv.  I was happy that it would be repurposed and continue to entertain them for the foreseeable future.  It has been a great set for me.
Before heading home we made stops at Costco and Dick's Sporting Goods.  At Costco we scored two sets of seat covers that wrapped the seat instead of just laying on top of them.  I had seen them when I shopped earlier in the week.  In normal Costco fashion, the check out experience was backlogged and miserable.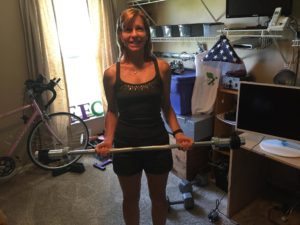 At Dick's we picked up an olympic style curl bar that Cindy intends to use for a lot more than curling.  It's shorter length makes it much more practical in her small "shed gym" she has laid out.
On Sunday afternoon I undertook my monitor repair project.  My hope was to somehow take parts out of a damaged monitor I bought on Ebay for 50 bucks to get my just out of warranty monitor working again.  I had never dug into a monitor before so I figured if nothing else it would be a learning experience. It was.
I was surprised just how little was inside the monitor as far as circuit boards go.  I first tried swapping out the small circuit board that power and video connections connect to.  When that made no difference the surgery became much more expansive.
If you want the full play by play feel free to watch the video I shot during the process.  In the end I basically pulled the cracked screen out of the Ebay monitor and inserted the uncracked screen from my monitor in it's place.  The way I got to that point was a twisting path of confusion but all I know is it works.  My Frankensteined monitor works well. The only flaw is the top right corner has a bright spot that I hardly even notice since I assigned it as my secondary screen.
Sunday night we had our last regular season Tarpons game to attend.  Cindy thought it would be appropriate to make the official social media declaration about the proposal then since it all started there when Cindy went with me to a Tarpons game more than 3 years ago.  We took a selfie in our empty section of the arena to celebrate.
The game was yet another boring blow out as every home game has been this year with the Tarpons winning 70-6.  There will be at least one home play off game although the disorganized league doesn't really know who they will play at this point.  All I hope is we get to see at least one competitive game this year.