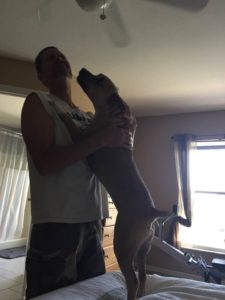 So when we first got Elsa it took awhile until she started to trust us.  There seemed to be something in her past that obviously made her skittish and untrusting of people.  However over time we have been able to melt away those barriers and now Elsa is just a bundle of fun and love, although still filled with plenty of quirks.
When I get home at night she is just so ecstatic to see me.  Usually I will try to immediately sit down on the couch so she can jump up for a thorough petting session.  Her excitement level is off the charts.  It seems like she is most happy when Cindy and I are both home, when one of us is missing it's just not the same.  Even though I had some trepidation about signing on to getting another dog, I'm now glad we jumped in as she is a bright source of fun and love in our lives.
So our slimy governor, Rick Scott, who was in opposition to medical marijuana which was passed in the state during last years election, is playing games to try to make the implementation of legal medical cannabis problematic.  You see Tricky Rick has deep ties to Big Pharm and the medicine for profit industries.  His lobbyist friends are not interested in a simple, natural product elbowing in to their extremely fat bottom line.
Late last month Scott signed a bill regarding how medical marijuana dispensaries are supposed to be managed by individual counties.  Basically it says a county has only two options, they either have to ban medical marijuana completely or they have to allow it anywhere with no middle ground.  So in a very image conscious place like Collier County, despite their desire for legal marijuana dispensaries inside county lines, the idea of having no control over the number of them or locations is not realistic so this law would force them into banning it completely, which is not what anybody really wants.
Of course the Trickster knows that a lot of counties are not going to be comfortable with having no control but he can put on a false face and say "Hey, the law says the counties can have medical marijuana anywhere they want!!" with that slimy, disingenuous grin of his.  It's so transparent.
Luckily, there is a good chance that Rick's shenanigans will not stand up in court.  It is likely the legislation will be challenged in court and be overturned but in the meantime many Florida residents just continue to wait for something that have voted to implement for over 5 years.