So as my Memorial Day weekend is winding down I thought I would enjoy the AC while I recapped what was a fun yet productive 72 hours.  Saturday morning we started off with another 5K run around the track.  If Cindy's GPS was accurate it was right around the fastest pace I have carried in 2017 which I wasn't really expecting.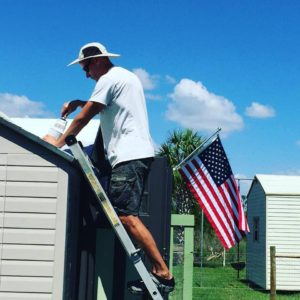 So I first dug into regular Saturday chores like weeding and chicken duties however we had a much more  time consuming task lined up, repainting various areas of the coop.  Cindy was tasked with repainting the wooden sections of the chicken run and deck.  I was up on the ladder, repainting the roof white for the third time.  The first two times I painted it I used spray paint.  To hopefully get some increased longevity, I painted it this time out of a can with a brush.  I also used primer first before applying the high gloss white paint, a requirement for reflecting the brutal summer heat off the roof of the coop.
As we both broiled in the sun we wondered why we opted to wait till the end of May to do this instead of during winter when conditions are much more favorable for outdoor projects.  Neither of us had a good answer but we knew we had to get this  done before rainy season started in earnest.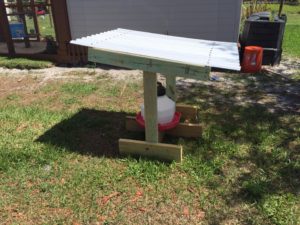 So while I was waiting for the primer to dry I did my other project, making the chicken water stand more protective.  A couple months ago I made a simple stand for their water that at least got it off the ground so it stayed cleaner. However there was another problem, for a good portion of the day the water was in direct sunlight.   The sun not only made the water hot, it also promotes algae growth which is a pain in the ass.
So I created yet another mental blueprint in my head to add a roof to the stand to keep the water out of the sun for most of the day.  I used a technique similar to what I built over the house water equipment, building a slightly down pitched frame topped with durable white PVC roofing material.  Despite my seat of the pants engineering the stand turned out well and should accomplish what I intended it to do.
So by the time I was done with the stand the primer on the roof was dry.  By the time I got the paint layer applied I was beat.  Standing on the ladder all that time and suspending myself awkwardly for prolonged periods reaching the remote corners and edges of the roof just wore me out. I was quite happy when I applied my last stroke of paint.  I am hoping the extra step of priming the surface will get me at least an extra 6 months of duration before I have to do it again. Cindy and I were both beat by  the end of the day.  We decided to just chill at home.  Cindy had some serious sunburn on her body and my face got blasted despite wearing a big hat all day from the sun bouncing off the coop roof.
Sunday morning we headed out for a fun EUC ride.  We parked at Dunkin Donuts and rode from there.  Cindy wore full pads for the first time because she intended to kick her speed up on the Msuper a few notches.  She certainly accomplished her goal. According to Strava she topped out at 23.5 mph.
Sunday afternoon I handled a couple Tacoma projects.  First I did my 15,000 mile oil change, something a dealer won't do since Toyota recommends only changing the oil every 10k.  I recorded a video of the process, thinking it would be much faster than my other video I shot of the work which was over 25 minutes in length.  Despite knowing what I was doing this time it still took awhile and the video is almost the exact same length, oh well.
I then turned my attention to installing my OEM Tacoma TRD Pro fog lights.  Installation of the lights was not quite as simple and straightforward as I anticipated but it still wasn't bad at all.  I like the look of the lights but the fact that they are now LED makes my non-LED headlights stick out like a sore thumb.  It is now very likely I will be getting LED bulbs for my headlights soon.
Last night we again opted to stay put and watched a Netflix rental I had sitting for awhile, The Secret Life of Pets, an animated movie that I think was made as the same crew that made Minions.  The movie was cute with a slow part in the middle sandwiched with a strong start and finish.  I'd give it a B all day long.
So my Memorial Day which used to be almost 100% running club consumed between the 5K race in the morning with a a club picnic late instead had a nice leisurely flow to it.  Cindy taught her water aerobics class mid-morning and I used it as an opportunity to complete my final project of the weekend, installing auxiliary LED lights in the front end of the truck.  I had stumbled across the lights when I was buying oil for my oil change and did an impulsive snap purchase of them.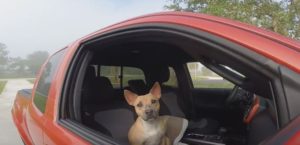 Chuck, the guy that helped me with my lift had a LED light bar installed on his Tacoma so I had been thinking about doing something loosely anyway.  The front of the box actually had a 2016/17 Tacoma with the kit installed so I assumed I should have little to no problem doing the same.  Well as is normally the case, things did not go quite so smoothly, although I did have Elsa in the truck for most of the install offering me moral support.
My issue was the cool TRD Pro grille I installed was different than the grill on the picture which was a base model Tacoma.  As a result I did not have an unobstructed area to mount the lights behind the grille.  Well after a lot of thought and more than a little hesitation, I decided to cut out one small section of the grille on either side which gave me a near perfect opening for the lights.  I spent over $400 on this grille, tasking a snips to it seemed a bit surreal but I was somewhat confident it would work out in the end.  Later in the process I even got the drill out to knock a hole in the back of the grille to get me access to turn a mounting screw for the lights.  It was kind of crazy as you can see in the video.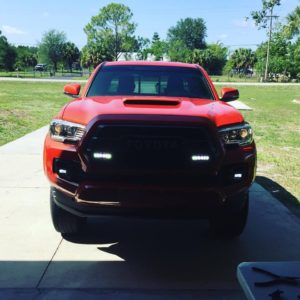 Anyway, everything came together in the end and I like the outcome.  The small parts of the grill I cut out aren't really noticeable and the lights almost look like they were meant to be there.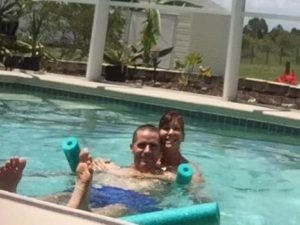 The rest of our Memorial Day has been very nice.  For the first time in I have no idea how long, I actually used our pool for more than just a psuedo shower after yard work.  Cindy and I floated around in the pool for a good 30-45 minutes, escaping the ridiculous temps hovering around 95 degrees.
I then suggested we take Elsa on a ride to The Cone in Bonita Springs for some ice cream.  Pool time and ice cream, the perfect Memorial Day one-two punch.  Elsa got to try her first doggie ice cream ever and seemed to like it.  We limited how much she had, just in case.  My cookies and cream and Cindy's black cherry cone were both very enjoyable.
From here out I plan to just veg and get some WoW time in.  Even though the weekend started off very front loaded with work with a large amount of projects peppered in, overall I am happy with the end result.  It's nice to just have simple fun and get shit done.  Hey, that rhymes.