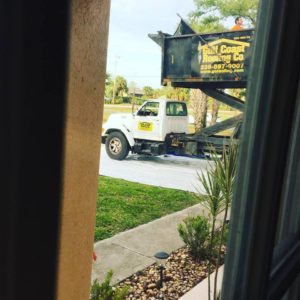 Yesterday was a good day.  The roofer arrived bright and early and got to work.  It was a large crew of at least a dozen guys.  Before long the inside of the house was filled with the noise of a shingle roof being removed which was a lot of scraping and banging.  Later in the day it was supplemented with a lot of banging and hammering as they re-nailed all of the exposed plywood to bring it up to code level strength.
The workers seemed very efficient and meticulous, laying tarps everywhere to catch any debris, which there was a lot of.  By the time they wrapped up for the day around 2PM three quarters of the roof had been stripped, renailed, and covered with the new rubberized underlayment.  All that remains is the front face of the roof that they are actively tearing into as I type.  After this we have around a week to wait until county inspectors check things out before the metal can be attached.
I flew my drone overhead twice yesterday to get a unique high perspective on the work and the transformation as it occurs.  It may be the first time I had the Mavic in the air since the hurricane.
I busted ass on more list items yesterday.  At this point out of the 15 items on my staycation to do list, only one remains, fixing the pool pump timer.  I plan to look at that issue today and hopefully be able to cross it off as well.  Don't get the wrong idea, once the list is complete I won't be sitting around doing nothing the rest of the week.  I always have something to do that either needs to be done or I want to do for entertainment, always.  Extended time off at home always makes me feel confident that I could retire tomorrow and not be bored at all.
Late in the afternoon yesterday I found some time to go cruise on my little Mten3 wheel, riding more backwards than forward.