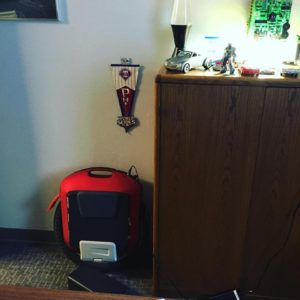 So today was my second attempt at commuting to work on an electric unicycle.  I did the ride almost exactly a year ago on my Msuper.  The Monster is much more suited for this type of ride with a bigger battery and larger tire.  When I first started rolling about 6:20AM I felt a bit clunky with a backpack strapped on and full protective gear, including big knee pads.  After a few miles I got more comfortable.
When I did this ride before I tried to go almost entirely via sidewalk which is safer but also slower because of the ramps and slowing down at every break in the sidewalk.  This time I used a lot more bike lane which allowed me to keep a better pace with the trade off of being in potentially more dangerous proximity of vehicles with their distracted drivers.
The air temps in the lower 60's felt a bit chilly when combined with the wind but with my long sleeve t-shirt I felt ok.  My feet and calves also held up a little better since I had the seat on the Monster which would allow me to sit down for brief periods while riding to give my lower extremities a break.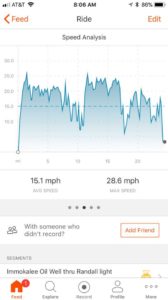 I was not wearing a GPS on my wrist this time so I didn't really know how fast I was going but I did have Strava running on my phone.  It felt like I maintained good speed but I didn't realize how good.  According to the app I topped out at 28.6mph, the fastest speed I have ever logged on a wheel.  I also spent a ton of time at 20+ mph, thanks to using bike lanes.
When I did this ride last year I was 15 minutes late getting to the office, mostly because I had to baby the wheel the last four miles because of a low battery.  With the Monster I went as fast as I felt comfortable with the entire time and rolled into the office 5 minutes early with 40% battery remaining.  The ride really went as well as it could.  The wheel is on the charger now.  I plan to ride it to the gym at lunch and then push off for home around 4:30.  It's a great way to start the weekend.
Speaking of the weekend, I am treated to another three day long hiatus thanks to Presidents Day.  I have a fair amount of things in my head to get done but for the most part I am hoping to get plenty of chill time.  Cindy and I are both looking forward to seeing Black Panther Saturday night.
So now that the personal things are out of the way I wanted to mention the latest case of mass gun violence, this time in our backyard on the other side of the state.  As seems to be the case with any of the really horrific incidents, the shooter, an unstable 19 year old, used an AR-15 with plenty of spare clips to mow down almost three dozen students and school staff, killing half of them.
I am almost ashamed to admit that my initial reaction to these incidents is more a feeling of overwhelming frustration than horror.  I just am stupefied that our country continues to "say prayers" but take no appreciable action to stop this insanity or at the very least make significant efforts so that this scenario much less likely to take place.  Guns are ridiculously easy to obtain and the lack of controls and consistent screening regarding who obtains them is a joke, in my opinion.
I also have yet to hear a compelling argument why normal citizens need the ability to buy assault rifles.  Yes, if you have concerns about your personal safety, own a hand gun, that will neutralize any immediate threat.  However if you feel the need to own a weapon that has the ability to kill huge amounts of people in very little time I would say you need to take some time to evaluate why this is important to you.
Unfortunately I have seen this scenario repeat like a skipping record so many times that I already know what to expect when it comes to tangible change, nothing……
And now with the plugs!
Ender 2 on GearBest EU Plug – https://goo.gl/v5bNRG $159 USE COUPON – "Enderen"
Ender 2 on GearBest US Plug – https://goo.gl/v5bNRG $159 USE COUPON – "ENDERC"
AnyCubic I3 MEGA – US WAREHOUSE – https://goo.gl/BKwhEu $329.99 USE COUPON – "I311GBUS"
AnyCubic I3 MEGA – CHINA WAREHOUSE – https://goo.gl/BKwhEu $315.99 USE COUPON – "I3MEGA"
CR-10 on GearBest – https://goo.gl/6M9DHi use coupon – GBCRUS
CR-10S5 on GearBest – https://goo.gl/3295a6
CR-10S on GearBest – https://goo.gl/rFztnC
GearBest US Warehouse specials! – https://goo.gl/nvL8uF
Get free cash back for stuff you are buying anyway – https://www.ebates.com/r/DUF391?eeid=28187
Esun Cleaning Filament – http://amzn.to/2zP3qwW
Creality Cr-10 3D printer – http://amzn.to/2w7yqIF
Dagoma Neva 3D printer – http://amzn.to/2hYNjoV
FlashForge Finder 3D printer – http://amzn.to/2sCllp7
Hatchbox white PLA filament – http://amzn.to/2rrIfMt
ESun white PLA filament – http://amzn.to/2sBRv42
The gimbal I use – http://amzn.to/2lJbZCa
My GoPro camera – http://amzn.to/2kkBUmJ
GoPro foam windscreen – http://amzn.to/2maDI2B
Selfie stick – http://amzn.to/2mJTJLL
Segway MiniPro – http://amzn.to/2lddTNt
Segway S1 – http://amzn.to/2A8CkQQ
DJI Mavic Pro – http://amzn.to/2kpV4Tk
My EUC protective gear
Killer 187 Wrist Guards – http://amzn.to/2p8y9m9
Triple Eight Helmet – http://amzn.to/2p8uuoH
STX Elbow Pads – http://amzn.to/2oNMrYJ
Killer 187 Knee pads – http://amzn.to/2oYtAHw
Looking for Gotway, Inmotion or KingSong electric unicycles?
Go here for free shipping! – http://ewheels.com/eucarmy
Check out all my sites!
http://eucarmy.com
http://duf.net
http://dufisthenics.com
EUC Army YouTube – https://youtube.com/eucarmy
Duf 3D YouTube – https://www.youtube.com/channel/UCBnqqxnkBqc5ISDQRr0YkiA
Social media
Instagram – @duf67
Twitter – @duf67
Cindy's site – http://fitfarmchick.com
Cindy's YouTube channel – http://youtube.com/fitfarmchick